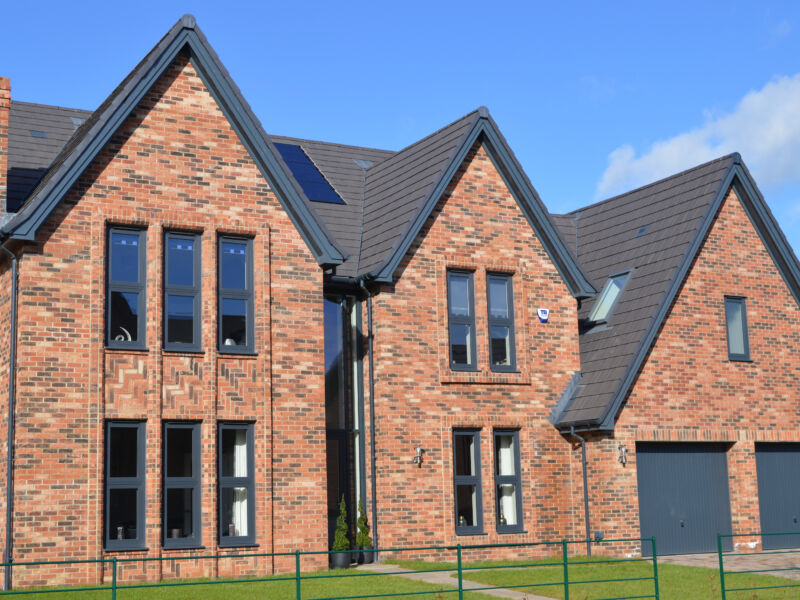 The Dere Street Homes development at Wynyard Rise in Hartlepool consists of 64 detached luxury homes with four, five, or six bedrooms. Located in an enviable position in sought-after Wynyard Woods East, with tranquil woodland all around, each house is built with high-quality materials. Indeed, the products and finish throughout are high spec and reflect the quality of the development overall.
The design of the 2 and 3-storey homes is highly commendable - particularly the use of glass that allows natural light to flow throughout each floor. This glazing, which is modern in appearance with anthracite grey frames, is a key component of the scheme.
Common to all the homes are stunning double-height glass fronted entrances halls. These lead to beautiful open plan kitchen/dining spaces where natural light again floods in via bi-fold doors to the rear garden. The result is accommodation with a bright, airy, and spacious feel.
Externally, the development is characterised by homes with multiple imposing gables. However, as integral to the design as the extensive glazing are the attractive brick elevations. Ibstock's Ivanhoe Westminster bricks, a high-quality thrown soft mud brick with red tones and a light texture, were specifically selected for their visual appeal. The natural variations in the brick's red tones create a modern yet homely aesthetic with a suitably superior finish.
Brick features also create visual interest and underline the quality of the architecture. Tall windows on certain elevations are framed by projecting brickwork. Beneath these windows are sections of diagonal herringbone pattern brickwork. These details provide the homes a great deal of character.
Finally, the homes at Wynyard Rise have been built with sustainability firmly in mind. The extensive glazing, which might otherwise lead to heat loss, utilises leading energy-efficient technologies. The windows also consist of 50% recycled materials with dual material extrusion technology to boost thermal performance.
Durham-based Dere Street Homes have built up an enviable reputation for the creation of exclusive developments in recent years. Wynyard Rise, with its adherence to the very highest standards of design and construction, shows precisely why.