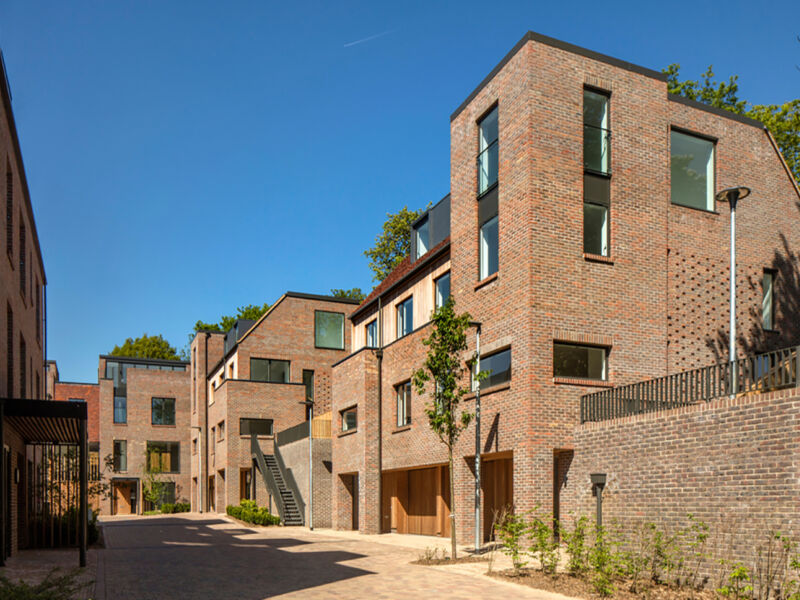 Located on a complex and sensitive site within a conservation area on the southerly slopes of Muswell Hill in north London, Woodside Square responds both to the fine Edwardian terraced houses along its northern boundary and Highgate Woods to the south. Designed by Pollard Thomas Edwards, the 2.4-hectare development provides 159 homes in retained and new buildings, and comprises 138 apartments for independent older people and 21 family homes. Three restored buildings – a grade-two listed neo-Georgian hospital building dating from the 1920s and two locally listed Victorian villas – form the public face of the development on Woodside Avenue.
The £50m project, for developer Hanover and contractor Hill, is intended to promote the "reintegration of older people into the centre of communities using architecture, urban design and enlightened management". The mixed uses and tenures include affordable and private sale family homes and smaller flats as well mixed-tenure older person's apartments. PTE's urban design reflects the varying contexts of the site, with family houses backing onto the large houses on Grand Avenue, and new mansion blocks and retained historic buildings lining the reconfigured hospital gardens. A new pedestrian and cycle link has been formed through the centre of the site, adding to the network of routes between Muswell Hill and Highgate.
The new buildings and hard landscaping feature a brick and tile language that references the Arts & Crafts-era residential buildings of Muswell Hill. Three types of brick were selected to express 'base', 'enclosure' and 'light-reflecting courtyards' in the central London tradition. The lower levels of the outer walls of the apartment blocks around the central garden, as well as the garden walls, are in a dark stock brick. During the site's original incarnation as a hospital for nervous diseases the gardens featured extensive covered walkways, and now with a large number of mature trees, they tended to be dark for much of the year. So to encourage their year-round use, the perimeter walls have been rebuilt using white stocks to help enhance the available daylight. Most of the houses and apartment blocks are faced in first quality facing stocks, in a richer, redder variant of the garden wall brick. The development is roofed throughout with plain clay tiles typical of the area, and these are also used to clad parts of the flat-roofed contemporary family houses.
Energy efficient and solar responsive design guided the architectural approach from the outset. Larger windows to maximize daylighting are positioned so as to minimise overheating in summer and maximise winter solar gain. The building fabric is highly insulated and heat recovery ventilation also helps reduce energy demand, resulting in excellent energy ratings, and near Passivhaus standards.