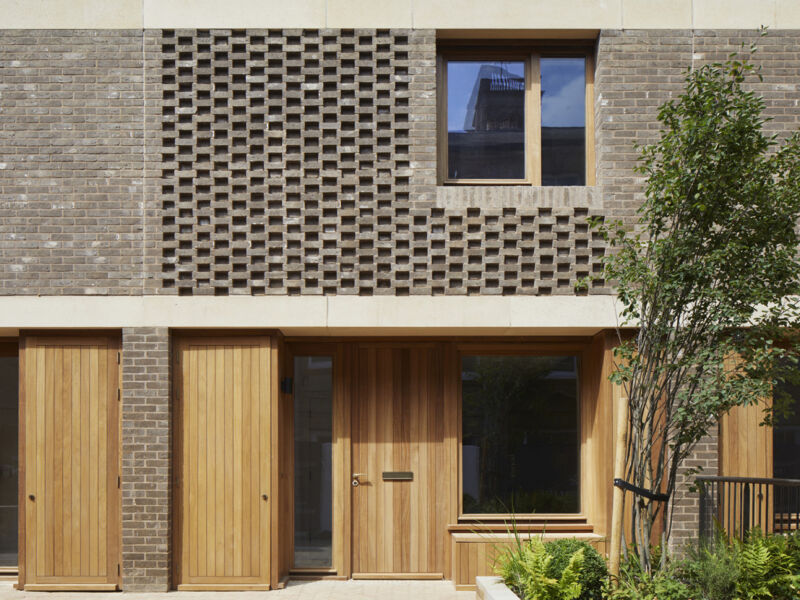 The Wildernesse Estate mews has been designed by architect Morris & Co as part of a holistic retirement community in the grounds of the Wildernesse Estate in Sevenoaks, Kent. Set partially within the Wildernesse Conservation Area, the site is characterised by fine trees, swathes of woodland and sweeping views. "The quality and nature of the built form and surrounding landscape make it ideal for the intended retirement community use", says Joe Morris. "The central idea is that everyone, irrespective of age, shares the aspiration to live in a beautiful and socially inclusive environment. The creation of caring, safe and secure environments, which promote healthy living and wellbeing, lies at the heart of these plans."
Located next to a grade-two listed manor house, the mews forms an ensemble with support facilities and an existing ice house. Developed with client Pegasus Life, Tibbalds, Purcell, and Camlins, the project comprises eight mews houses and 39 apartments within five freestanding villas. Architecturally it draws on the language of the former stable yard that occupied the site, and like the ice house the houses are clearly secondary to the listed mansion. Large windows and outdoor amenity spaces establish a relationship with the surrounding landscape and the main house, and enhance the potential for socialising.
The brick buildings are intended to acknowledge the importance of quality, heritage and physical as well as emotional security. The large timber windows sit deep in the brick reveals, while the joinery has a domestic aesthetic. In contrast the flush detailing to lintels and sills as well as recessed rainwater gutters and pipes ensure an uncluttered appearance. The brick and reconstituted stone interpret features of the nearby house, as does the banding, pitched and hipped slate roofs, and the staggered massing that cascades down the sloping site.
The Arts & Crafts heritage of the Wildernesse estate influenced the desire to celebrate the art of brickwork in articulating the facades.The brick type, tone and texture were selected – after rigorous sampling and design testing – to complement both the main house and the new concrete bands and timber panelling of the mews facade.The selected soft clay bricks have a consistent brown-grey body colour with some exhibiting white pigment stains, providing variety and complementing the rough stone finish of the main house.
The sand-moulded bricks have a characteristic creased texture that results from their manufacture, giving a rustic character that complements the smooth precast concrete and the organic tones of the iroko timber panelling. The brick patterning helps to accentuate the gables and reduce the apparent mass of the building. In parts of the facade, every second brick was cut and recessed to form a 'perforated' effect that tempers the sculpted brick forms.