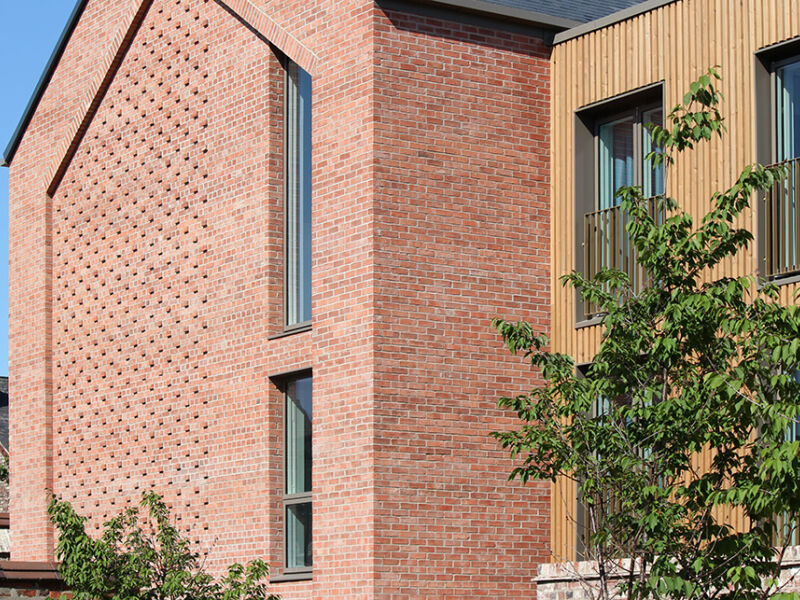 The Vita Student project at Lawrence Street, York, designed for Select Property Group by Fuse. Located within the grounds of the former Grade II listed St. Joseph Convent, the new "Student Village" provides 644 bedrooms across 15 new and 3 listed buildings. 
The site presented a unique challenge: it is enclosed by a tall listed brick wall, contains a nationally registered orchard, numerous tree preservation orders, other listed buildings/structures and slopes approximately 7 metres from north to south, across its 200 metre length. 
Working constructively with the City of York planning officers throughout the design period, Fuse collaborated with Re-form Landscape Architects in the creation of a masterplan concept which responded to and respected the site topography and existing landscape features. The overriding brief was to create a sustainable new student village that would become an important and complementary part of the existing neighbourhood.
The project brief called for a comprehensive and sensitive re-development of the whole former convent site; including full re- use of the existing listed buildings. High quality student accommodation was to be provided in the existing grounds in two forms: self-contained studio apartments and groups (clusters) of study bedrooms around communal kitchen/living facilities. 
The client asked the team to design a new student community that would enjoy a car-free environment. Vehicular access to the site was to be limited to general servicing and emergency vehicle access only. The ability to manage the beginning and end of term time drop-off and pick-up by car within the site boundary was required but no full time parking on the site for students (other than a small number for those with disabilities.) 
The wonderful existing mature landscaping was seen as a hugely important asset for the site and neighbourhood. The client wanted to retain as much of the existing planting as was practical and feasible, as this would help provide a sense of "maturity" to the site from the outset. 
Fuse worked collaboratively with Re-form (landscape architects) and Purcell UK (heritage and conservation architects) to develop a coordinated design approach across the site. The master plan design evolved through a series of design workshops and importantly, through direct and constructive dialogue with planning officers and others, such as Historic England. 
The majority of the new buildings are clad in high quality facing brick work, by Wienerberger, with the exception of the Park buildings which are clad in pressure treated Scandinavian Redwood. The treatment helps retain the original timber colour and prevent the natural greying which the client was keen to avoid.