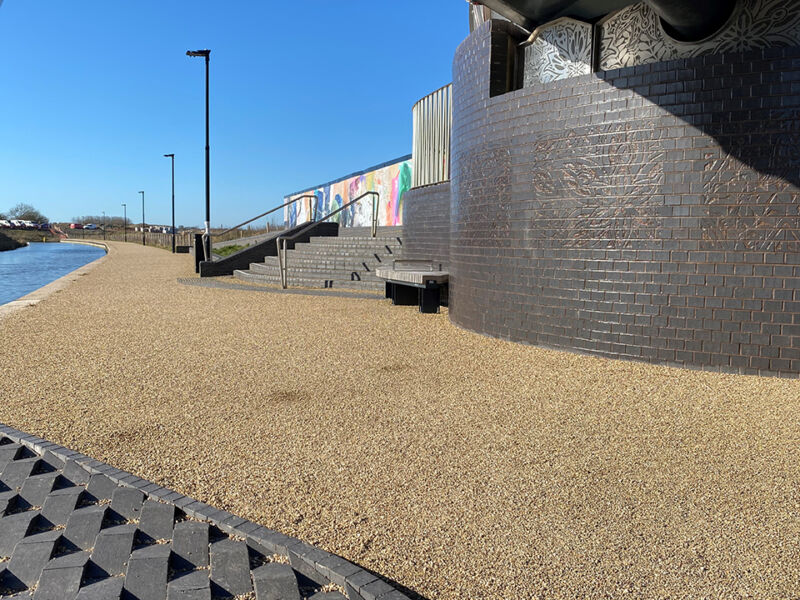 Wichelstowe is one of the South West of England's boldest and exciting new developments comprising 4000 distinctive new homes, of different styles and character to suit community of different ages, families, and budgets.
Situated on the southern edge of Swindon the 250-hectare site includes extensive open spaces, nature conservation areas, playing pitches and allotments, and at the heart of the community is the vibrant Canalside area with its shopping and leisure facilities and sensitively designed outdoor spaces.
Designed by Bradley Murphy Design, Pocket Square is a landscaped public space at the centre of the Canalside area, which provides an attractive area with planting and seating, where people can relax, accessed by a feature foot bridge.
Traditionally used in industrial and waterside locations for their exceptional durability and performance qualities, Ketley's Staffordshire Class A Blue engineering bricks and brick slips are a dominant theme throughout the square, with their smooth face and glistening classic blue-grey sheen reflecting the character and heritage of the canal.
Landscape architect Jason Lupton, who led the design team for the square, used Ketley's bespoke tapered bullnose bricks in Staffordshire blue to create four large raised-planters. The bricks were specially made to the exact radius in order to create the desired curves of the planters.
Flush fitting bullnose timber benches were installed at intervals following the rippling curves of the bullnose brick walls giving a very high-quality finish to the project.
The striking footbridge, linking to the Square, is positioned at an angle to the canal, landing onto the solid curved Staffordshire Blue brick canalside wall. The civil architects/engineers Peter Brett used concrete for key parts of the wall structure, which were faced with 15mm brick slips. Other parts of the wall were constructed with perforated Ketley Staffordshire blue facing bricks, with cut headers forming the curve of the round bridge landing. This combination of solid bricks with matching bricks slips and pistols allowed the designers to achieve a seamless sleek brick finish.
Inspired by the design of a typical lock gate, the footbridge features highly decorative steel panels interspersed with orange polyurethane resin, which cast a beautiful light across the bridge when the sun is shining. This intricate work of art, created by renowned sculptor and public artist Sebastien Boyesen, is cleverly mirrored onto the brickwork of the round bridge landing.
To achieve this, decorative brickwork panels, comprising both brick slips and solid bricks were created and the detailing was replicated by using intricate laser cut templates made out of steel, which allowed parts of the surface of the brickwork to be blasted away. The result was fine textured brick panels which perfectly reflected the steel panels above.
The use of Ketley bricks provided a cohesive visual theme that runs through this very well-considered, high quality outdoor scheme.Their technical qualities were also important as a key material that will keep this public space looking attractive for many years to come.