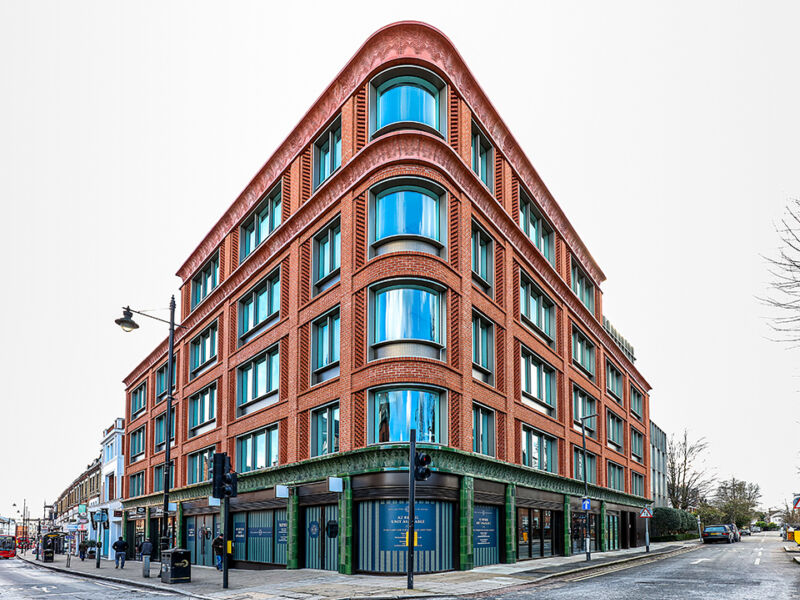 Wellington House is a brand-new retail and commercial space, located in the heart of Wimbledon's commercial district. The subject of major investment to help regenerate what had been a tired building, the project, spearheaded by London architectural studio MATT Architecture, entailed a wholesale redevelopment. This has transformed Wellington House into one of the most aesthetically arresting properties in central Wimbledon.
The aesthetic of the building was central from the outset of the project. Situated on a prominent corner block, Wellington House is an important local landmark. Serving as a gateway between the hustle and bustle of Wimbledon town centre and the open conservation area next door, it was crucial that the façade of the building was in keeping with the wider local vernacular of the street, with many of the nearby buildings, including the fantastically well-preserved Wimbledon Library, featuring distinctive orange brickwork.
Using the original Victorian brickwork of the well-preserved local library as a starting point, the architects needed bricks which combined the right colour with attractive texture. Initially, handmade bricks were considered, however, this would have significantly ramped up the costs of the project, so another solution was required.
Well-matched to existing brickwork in the area, Ibstock's Berkshire Orange was used to great effect across Wellington House – affording the property a classic, yet distinctly contemporary, finish. What's more, both standard and curved variants of the Berkshire Orange were used, which enabled the bricks to be laid in a curve – a primary consideration given the unique location of the building.
The new façade of Wellington House combines the iconic orange brickwork with superb green glazed ceramics, which brings to mind the image of a classic Victorian corner pub. In addition, frogless special bricks were used to enable the architects to mirror the sawtooth pattern on the Victorian buildings of Wimbledon High School across the road.
The end result is an incredible building that is in keeping with, yet enhancing, the local area's aesthetics. Indeed, the finished project has proven so popular that Wellington House was chosen as the cover image for the 'Living With Beauty' report, published this year by the Government's Building Better, Building Beautiful Commission.