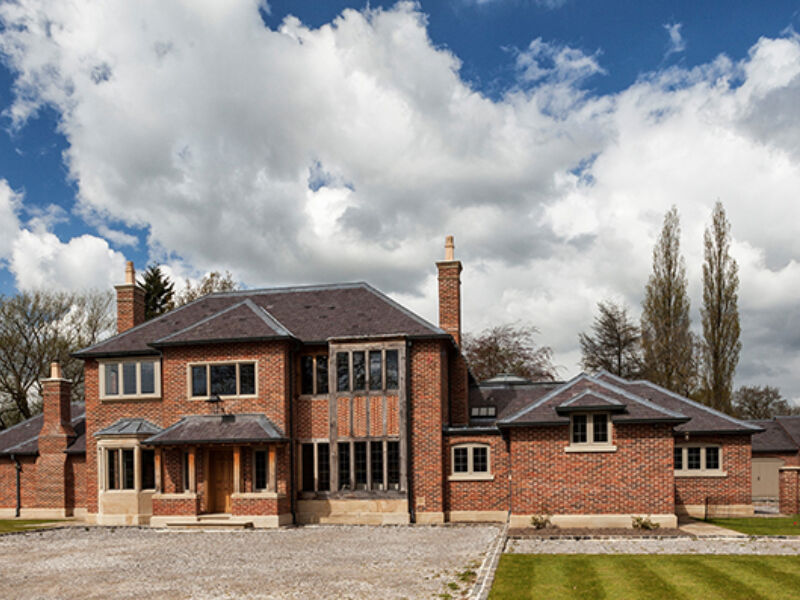 Valentine House is a charming individual housing project with high quality brickwork that complements the other materials, to make a very convincing building that was shortlisted at the 2021 Brick Awards.
Paul and Vivien Miller, the owners of the aptly named Valentine House, undoubtedly as clients of Nigel Daly Design, presented a complex dilemma. The site of their home was outstandingly attractive, lost down a rural lane surrounded by open countryside with only a handful of well-spaced neighbours. However, the actual building which dated from the early 1950's was prosaically conventional externally and was divided into a succession of box-like living spaces that felt confined, dark and poorly adapted to contemporary life.
Paul and Vivien had commissioned several plans for alteration but had eventually opted for a complete replacement to address developing structural problems with the house and the outdated services it contained.
At this point the couple's strongly divergent aesthetic tastes suddenly became a decisive issue. Paul is by instinct a dedicated modernist, with a penchant for clean lines, glass and rational organisation. Whereas, Vivien was an equally committed romantic with an abhorrence of clinical modernism and a devotion to Edwardian buildings that retained historic resonances, soft textures and a sense of having slowly evolved over generations of family life. She was desperate to avoid the originally proposed house, which was to contain a large swimming pool, home office and media room, massing into an assertive entity that destroyed the visual tranquillity of the secluded site.
For the outside ,Vivien appears to have won the style battle, but despite the informal massing of disparate forms alongside each other, the use of brick made by the York Handmade Brick Company with lime mortar throughout, has created a continuous, harmonious texture, that appeals to Paul's love of orderliness without offending his wife's reticent instincts.
Internally the spatial organisation is contemporary, with the whole garden front forming a continuous inter-related living space, again unified by recurrent textures of brick and brand new oak, lit by almost continuous glazing. The atrium-like hall with its Lutyens-influenced oak stair, serves as a dining hall but there is a modest sitting room with an open fire place off it, for Vivien to escape to if she feels oppressed by soulless technology.
The separate garage and swimming pool wing, although a low, single storey range, blends effortlessly into the composition due to the soft texture and detailing of the York handmade brick, reclaimed slate roofing with finely detailed lead hips. As designers of the new Valentine House, both inside and out, we were acutely aware, and grateful for, the sensitive contribution the wholly handmade bricks made to bringing the contrasting aspirations of the house together into an original and coherent whole.