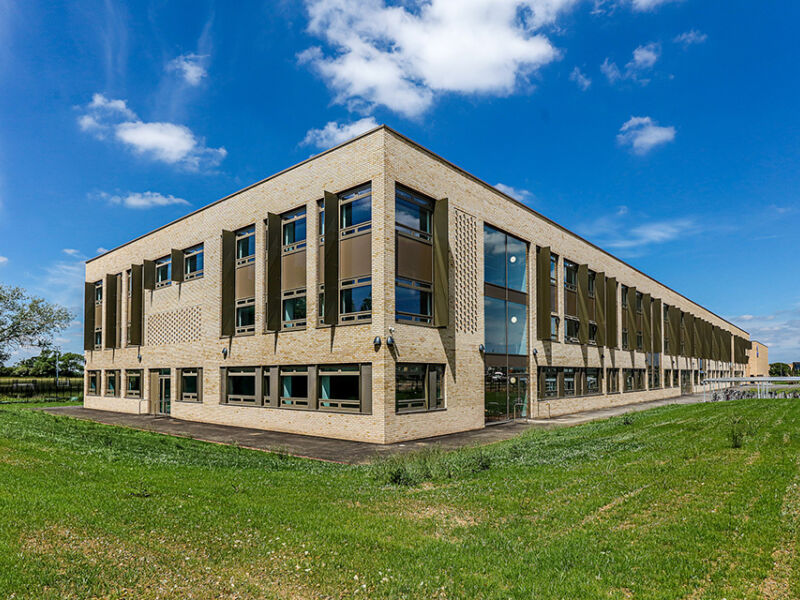 Situated on the outskirts of Milton Keynes, Watling Academy is a new 12-form secondary school for up to 1,800 pupils. It was designed by architects Glancy Nicholls and built by Graham Construction on a greenfield site as part of a broader western expansion master plan. The design features two structures: a main three-storey teaching superblock and a separate sports building. These sit within an extensive landscape scheme featuring both hard and soft outdoor pitches.
The main building possesses an external courtyard and a large, light filled, shared hall in the centre of the plan. Circulation space is generous and contains feature stairs at both ends of the building that double up as functional break out facilities. The building was constructed with piled raft foundation for the substructure and a steel frame for the superstructure. The large triple-height atrium spaces for the dining hall and the drama studios were formed using 17m long steel trusses.
The design concept was to create a robust civic community building with a welcoming and highly contemporary look. The brickwork, which blends with the warm beige / grey metal windows and flashings, was key to achieving this outcome. The bricks also ensured that the new building complemented the surrounding vernacular, specifically the adjacent new housing and nearby rendered primary school.
As a minimal palette of materials was envisaged, the choice of brick was all-important. Ibstock's Leicester Multi Cream were selected as the bricks most capable of delivering the desired civic appearance and warmth. With the nearby housing also consisting of buff bricks, the Leicester Multi's complemented the surrounding architecture whilst also enabling Watling Academy to stand out. The brickwork also adds character to the building. The Leicester Multis provide different tones, which ensures that the elevations are not too monolithic. Meanwhile, whilst the main building uses a regular stretcher bond, the sports hall utilises Flemish bond with distinctive projected headers to create an identity of its own. The result is an eye-catching building that looks strong and resilient from afar – a facility that will stand the test of time – whilst also offering pleasant detailing and textures up close.
The completed building is a high quality teaching facility for an emerging community. With a site of almost 11 hectares including a car park, cycle store, plus tennis, cricket, and football pitches, it is the largest newly built secondary school in Milton Keynes. It also possesses photovoltaic panels on the main building's extensive flat roof, which helps to meet the local council's sustainability agendas.