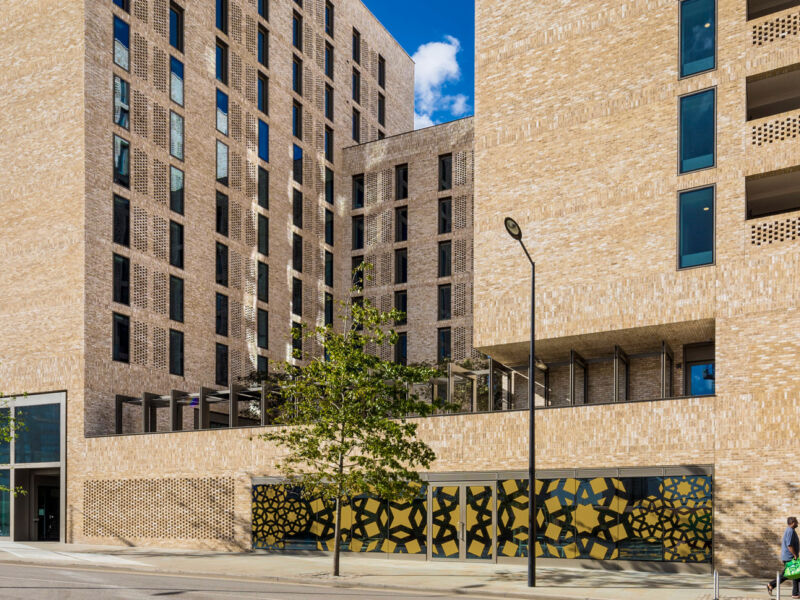 Designed by architect Stanton Williams for a site in the northerly quarter of London's King's Cross regeneration project, the ambition for Victoria Hall was to raise the bar among student residences. The 9,000-square-metre building was commissioned by the Aga Khan Development Network (AKDN) and provides 198 bedrooms for graduate students of the Aga Khan University-Institute for the Study of Muslim Civilisations and the Institute for Ismaili Studies. The precise masonry forms with punched-out windows and brickwork screens are intended to reference both the brick industrial heritage of King's Cross as well as the adobe architecture of the Middle East.
Victoria Hall forms part of a new terrace (a flanking building is planned to the west) along Canal Reach, where it will form a linear wall backing onto the main rail lines. It is conceived as a series of linked monolithic forms, as if carved from a single block, with two 12-storey wings set above a ground-floor plinth. These are linked by an eight-storey element which is set back on the south side to form a courtyard garden. Inspired by the Islamic gardens of southern Spain, and designed by Lebanon-based landscape architect Vladimir Djurovic with Stanton Williams, this tranquil area acts as a focal point in the urban composition, and is accessed from the surrounding communal student facilities. A double-height entrance provides a welcoming interface with the street.
High-quality materials and detailing are intended to both provide and convey a sense of longevity and care. The brick exterior – in keeping with the local railway and warehouse vernacular as well as many of the recent interventions at King's Cross – features two shades of brick mix, with different percentages of buff to white brick, and a lighter tone employed for the courtyard. The mortar was selected to complement the brick and is detailed flush with the brickwork face to enhance the monolithic appearance of the facades.
The elevations are animated by subtle changes in the brick coursing, some of which is laid vertically, while hit-and-miss brickwork filters dappled light into interior spaces. The generous 16-square-metre student bedrooms have fixed, full-height windows and openable panels to allow for natural ventilation behind the brickwork. A hand-laid hung brick soffit is carved out of the first floor, and spans the courtyard along the street. Inside the communal areas, limestone (on the main staircase) is combined with oak (for water-jet-carved benches) and bespoke furniture by Doshi Levien. Since its completion, the building has received both RIBA London and National Awards.