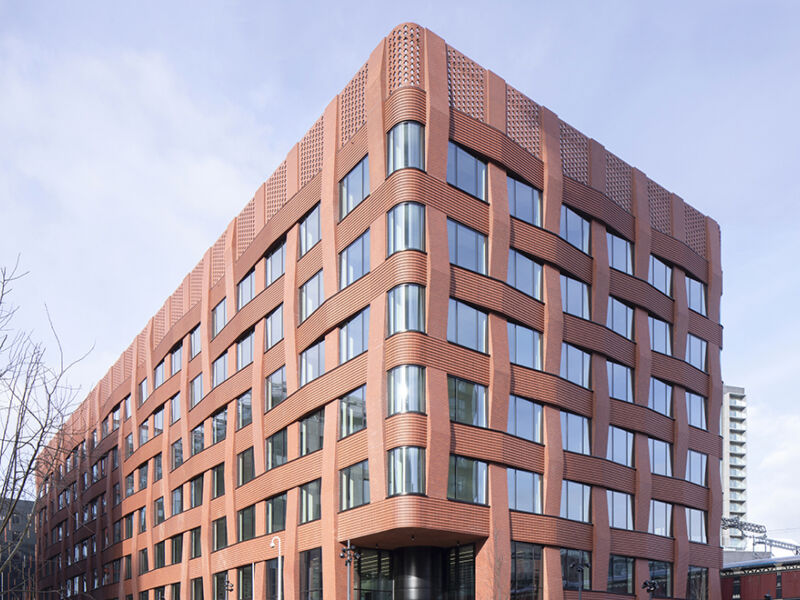 Three New Bailey is a highly flexible commercial office building in Salford's New Bailey masterplan, with a strong and commanding identity, which has been designed solely for HMRC on behalf of The English Cities Fund, a joint venture between Muse Developments, Legal & General and Homes England, in partnership with Salford Council.
As a gateway building immediately adjacent to Salford Central train station, it provides a sense of arrival to the masterplan as a whole, which extends Manchester's CBD across the River Irwell.
The 14,733m2 building is a simple, honest and highly efficient structure. It is rectilinear with large repeating floors spanning across its seven storeys and a side core which allows maximum working flexibility. Built to last, it offers a flexible and sustainable solution to HMRC's workplace needs for today and the future.
Inspired by Salford's textile heritage, the highly articulated red brick woven facades help to break up the orthogonal mass, creating depth, movement and interest.
Close collaboration between Make Architects, Thorp and Ketley Brick on technical challenges resulted in innovative solutions involving two different weave types: a plain (basket) weave for the short elevations and a twill weave for the long elevations. These articulate a subtle variation across the building structure whilst the curved corner panels and glazing help transition between the elevations.
Vertical and horizontal facade elements are treated independently. Horizontal elements are formed with a ribbed and stacked red brick bond to emphasise the horizontal grain and maximise contrast with the vertical red brick elements, which are laid in a stretcher bond.
The facades are constructed from 650 large scale brick facing pre-cast panels using over 500,000 Ketley brick products, a combination of 350k standard Class A Staffordshire red bricks (mostly perforated), 85k brick slips (with a dove tail key for pre-casting) and 60k basket weave textured bricks plus a large number of bespoke special bricks. Ketley's bricks, which are independently tested for freeze thaw performance within a textured façade, ensure durability and longevity.
The cladding projects between 400mm and 100mm from the glazing line in both the horizontal and vertical brick panels. This 300mm variation in depth adds visual interest, accentuating the passing of light across the facade, generating shadows that play across the surface and reveal the weave.
The roof level has a different treatment. A distinctive perforated screen, made of open Flemish bond hit-and-miss brick panels, controls views of the plant and infilled Flemish hit-and-miss panels, used on the core, provide a detailed brick pattern and texture to add grain to the facade. Ultra high-performance fibre reinforced concrete was used here to deliver super slim brick facing panels to minimise the weight and remove the need for conventional steel reinforcement.
Internally, the scheme offers a generous journey through the building, from a double-height entrance inviting visitors into a spacious and active lobby. Bespoke basket weave textured bricks bring the external architectural language into the interior with a red brick soffit and spandrel panels transitioning to white painted brick in the reception and lift lobbies.