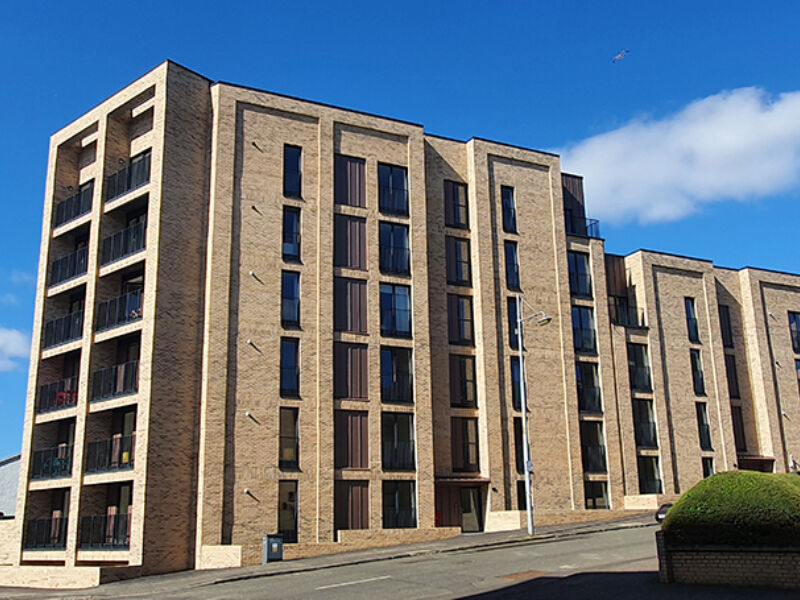 Built on a largely derelict gap site, The Works is a development of 34 two-bedroomed apartments in the popular Yorkhill/Finnieston area of Glasgow, offering panoramic views over the city and the River Clyde. To accommodate the site's slope, the development comprises a four-storey north side and a six-story south side.
The development had to overcome a number of issues, including planning issues around daylighting and massing, and the challenge of building immediately adjacent to the Yorkhill railway tunnel.
The Works provides residents with off-street parking and use of a large communal garden, with ground floor properties having private rear gardens. Design emphasis is on open-plan layouts and generous room sizes. To take advantage of the views, the apartments feature south-facing and Juliet-style balconies.
Forterra's Ecostock Belgravia Gault Blend was selected to meet the requirements of both the client and planning for a high quality, light buff brick with grey tones that would match the surrounding buff sandstone tenements. The sustainability credentials and technical performance of Ecostock, with its low water absorption suiting the wet weather typical of the west of Scotland's, also contributed to the selection decision.