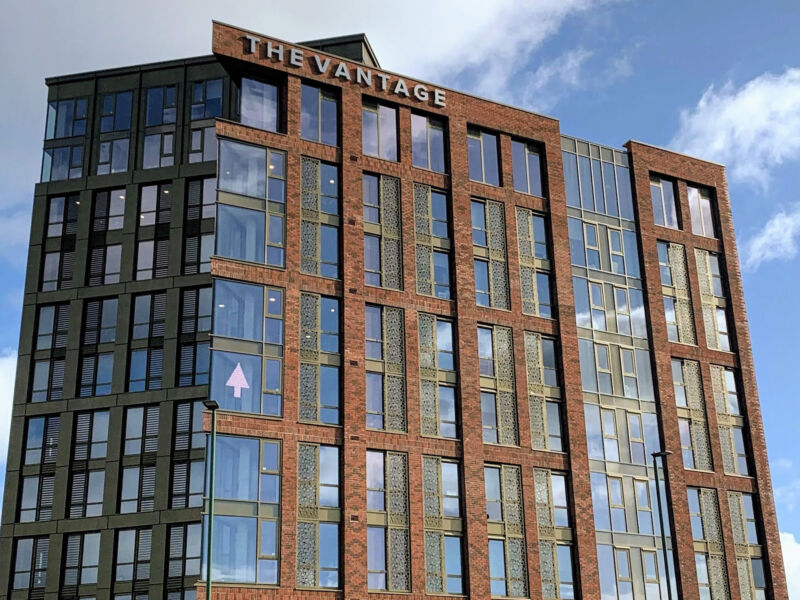 The Vantage is a 473-bedroomed purpose-built student accommodation development set over 12 storeys. It is located on a prominent gateway to the city of Nottingham. The scheme provides high quality facilities with a mix of cluster apartments and studios, served by a rooftop student hub space, providing panoramic views across the city and Nottingham Castle.
Careful consideration was given to selecting a primary brick that reflected and complemented the local vernacular, with the historic Nottingham red brick as the predominant reference.
A conscious decision was taken to source UK manufactured bricks, as a means of minimising the carbon impact of construction transport. Due to the acute angles of the building form, and complexity of stepping within the elevation and brickwork soffits, there was need for a number of types of brick specials. All bricks were manufactured locally within 100miles of the site.
Consideration was given to the technical intent of proposed detailing when choosing each brick: 25mm projecting brick headers and stack bonded soldier coursing were used to enhance particular areas. Stepped and recessed is also used to form a strong language of vertical piers, as a means of controlling and balancing the scale of the building masses.
The following brick finishes and details were used:
• Red facing brickwork: Forterra's Butterley Farmstead Antique was selected for its similar red tone to the Nottingham red brick. Its tonal variation and tumbled style also helped to soften the face of the large massing.
• Black facing brickwork: Forterra's Butterley Carbon Black Smooth, with its sharper face and combined with grey coloured mortar and raked joints, was chosen to contrast to the Farmstead on the lower masses.
• Grey facing brickwork: Forterra's Ecostock Belgravia Gault Blend, with natural coloured mortar and raked joints, complements the cladding at the base of the tower.