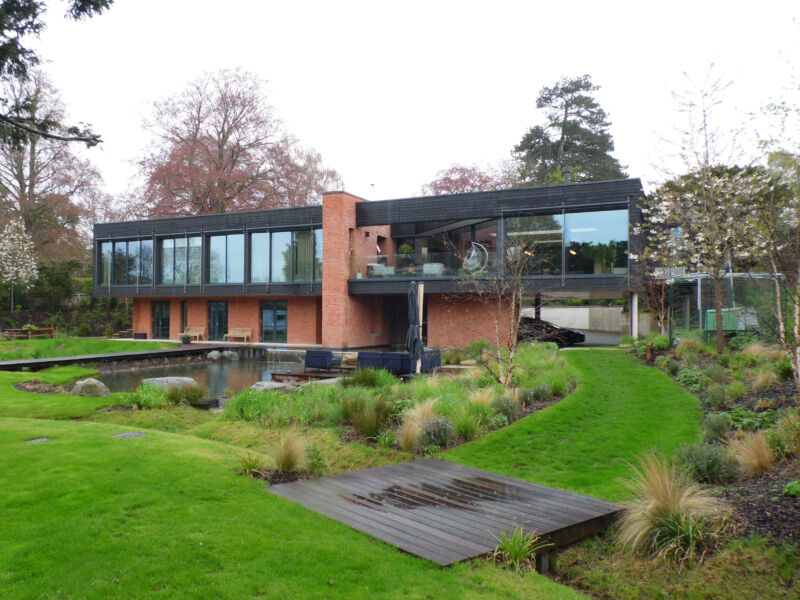 The Pavilion is situated in Goring-on-Thames, Oxfordshire. the clients approached Nash Partnerships to help them create a new family home that takes advantage of the site's many opportunities, including the large, private garden and riverside setting. The existing dwelling was demolished and replaced with a new 2-storey, 5-bedroom dwelling, with an ancillary boathouse. Around the site, we created a new inlet and private mooring, and laid out a series of rills, ponds and swales to connect the building with the river.
For the main house, the concept was to create a robust and compact ground floor, partly in response to the potential flooding of the site by the River Thames. This then provided a base for a larger and more open cantilevered first floor, free from the constraints of the site.
Nash Partnerships were keen to give the new buildings a contemporary architectural language, reflective of the period in which they were built, but a language that draw upon the local vernacular. Fortunately, Goring-on-Thames and the wider south Oxfordshire area have a distinctive domestic architectural character that lends itself to this goal, with traditional building forms clad in timber (usually in the form of black painted horizontal boarding), flint (often with the stones knapped), and red brick (commonly laid in a Flemish bond).
Brick was therefore the ideal material to finish the ground floor and enhance the idea of robustness and stability, while the timber boarding equally helps reflect the lighter and more transparent first floor.
The building's forms were kept simple, with the detailing pared back to create a backdrop which complements the strong, natural character and individual features of the site. As such, we deliberately used a regular size brick, and set out the building to align with the bonding, eliminating the need for any additional treatment at, for example, the openings or corners.
Michelmersh Sussex Red Multi was chosen because - as a thrown clay brick - each would be slightly irregular in shape and have slight variations in colour and texture, therefore softening the overall surface and avoiding complete uniformity. Given its general colour and when laid in the Flemish bond, this also provides a link to the architecture of the buildings found in the village.
It was important to link the two floors of the main house in some way, so their distinctive styles come together as a coherent whole. To achieve this, we introduced a vertical feature wall that serves as a spatial organising device within the building and also houses cooking facilities and services externally. Again, brick was the ideal material for this feature, and by continuing the approach to the ground floor here we were able join the two forms together and tie the building to the site.