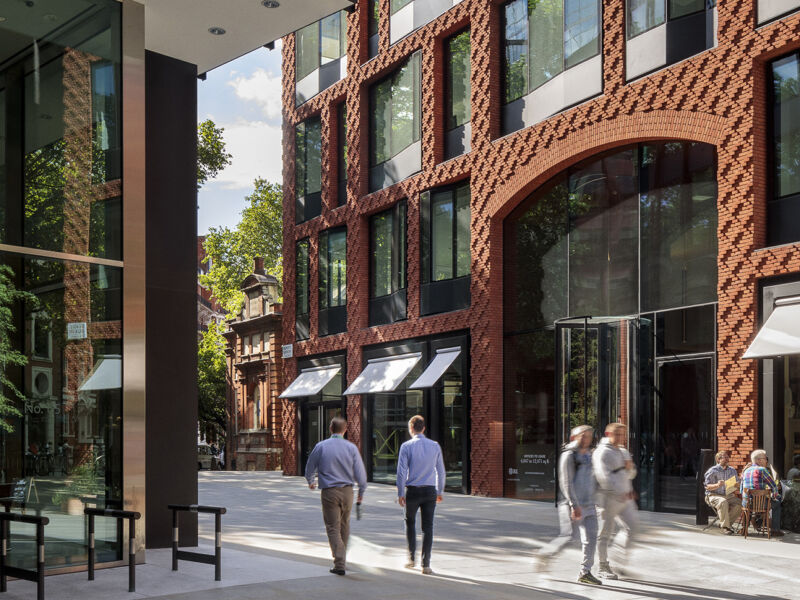 Buckingham Green is a trio of buildings that has remodelled a piece of quintessential London at St James' Park, transforming a dated complex into 65 contemporary residences, workspace and retail, linked by a generous step-free public realm.
Designed by Fletcher Priest Architects, The Caxton's contemporary design draws inspiration from the building's Victorian setting, and naturally sits in its context. Located in the Conservation Area fronting Caxton Street, the building is clad in a rich, textured brick, and turns a previously dark alleyway into a lively new pedestrian street.
The project, with 315 precast panels, features approximately 215,000 bricks. A handmade bespoke blend was selected for its warm colour, traditional handmade appearance, textured finish, long-term durability, and ability to be manufactured as a Dovetail brick specifically for the precast market.
At Buckingham Green, the brick-faced precast panels have a distinct projecting diamond pattern which seamlessly wraps around the entire façade and folds into the reception and loading bay of the building. To create this seamless appearance the panel joints featured voids in the precast units where brick slips were handset into place on site once all panels were installed. The result is a highly patterned brick façade without the clear delineation of a traditional precast faced building.
Caxton Street's once-compromised Victorian character has been enhanced by this diamond-patterned, hand-crafted red brick workplace building, redolent of the existing, finely detailed neighbours. The 'golden thread' of the design intent, and the client's commitment to it, can be clearly seen along the façade of the Caxton Street building.