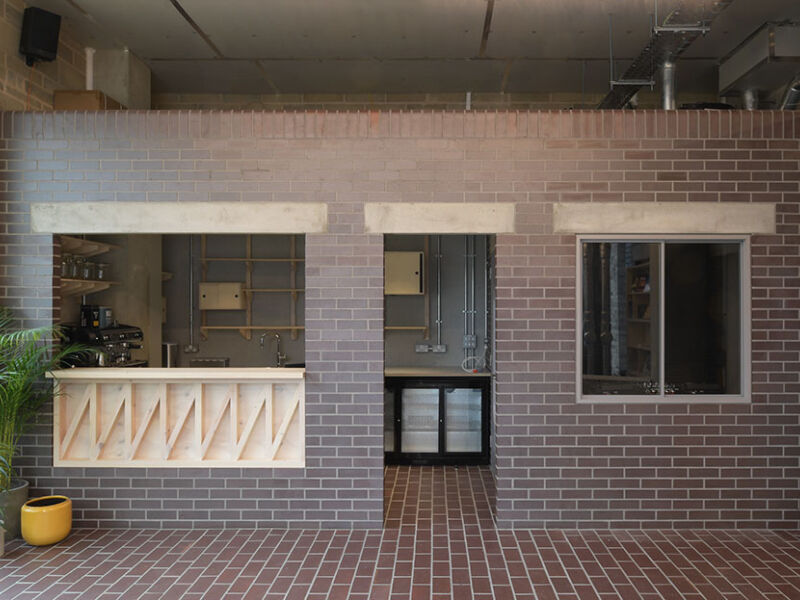 TACO! Gallery, the new home for Thamesmead Arts and Culture Office, is a not-for-profit arts organisation in the Thamesmead Estate, Southeast London. Situated on the corner of a public square in the Thamesmead Estate, the ground floor space has been fitted with a new gallery, event space, bookshop, cafe/bar and community radio station studio for local artists, musicians, and community groups. It is a dynamic, flexible, and welcoming contemporary space requiring very little maintenance and achieved within a modest budget.
TACO! Gallery is a unique concept which combines the style of a private domestic house with public use, by incorporating exterior features characteristic of the surrounding estate into its interior. The internal brickwork emphasises the sense of solidity, which is balanced by the flexibility of inset panels in the walls which can be removed to extend the gallery. Underfloor heating also allows for flexible clear spaces, maximising its overall adaptability.
The most innovative aspect of the design is the unusual use of Ketley's Brown Brindle bricks and quarry tiles throughout the interior as the durability, high compressive strength and frost resistance of Class A engineering bricks are normally associated with exposed exterior locations. The incorporation of robust typically exterior features into the interior design references the suburban style brickwork interventions made by local residents to personalise their prefab concrete houses and apartments in the surrounding 1960's estate.
A key reason for selecting floor tiles and bricks with the same tone, size, and finish was to maintain the continuity of appearance from wall to floor with the grout lines lining up seamlessly, thereby creating the illusion of a single unified surface wrapping itself round the whole of the inside of the building. To add to the sense of domestic scale, the interior brickwork fell just below the actual ceiling and was softened by a stretcher course of soldier bullnose bricks, referencing the external walls in the surrounding area. Bespoke soldier bullnose returns for the corners ensured a neat contemporary finish.
The natural kiln fired clay colours, with their slight variations in tone, created a warm, welcoming feel, which softened the hard concrete and blockwork shell of the building in which the gallery sits. The sleek almost shiny engineering brick surface, quite unlike the blank canvas of many modern art galleries, has a strong contemporary urban presence, whilst not distracting from its use.
By putting Ketley's clay products at the heart of the design, the architect achieved a simple, low maintenance and cost-effective interior without the need for the layering up of materials by tradesmen. The brick dimensions were used as a guide for other aspects of the design, (doors and windows etc), thereby creating a neat finish without the expensive brick cutting. Thanks to an innovative cost-effective approach, TACO! Gallery is breathing new life into an often-overlooked corner of South London, providing a strong and contemporary focal point for local people to enjoy art and creativity in their community.
Architect: Manalo & White