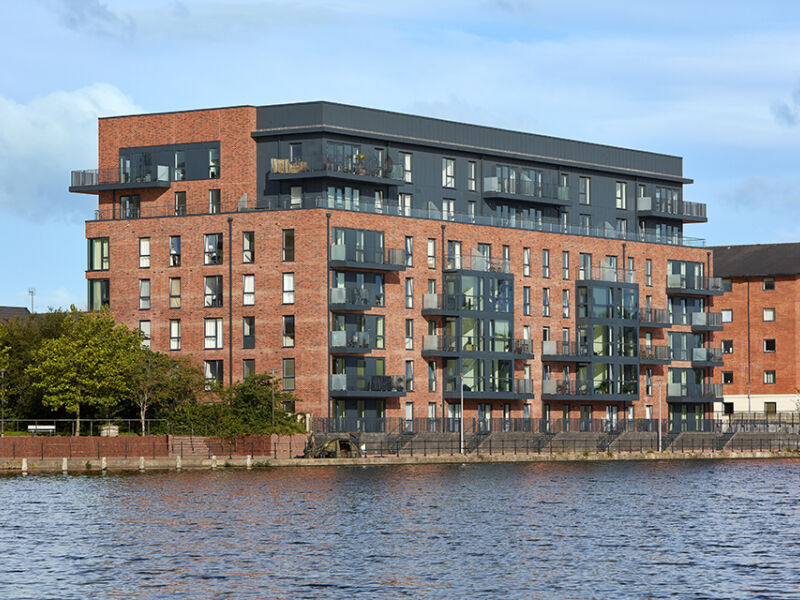 Schooner Wharf is a new build, mixed tenure housing development in a prominent location in Cardiff Bay.
It comprises 85 one and two-bedroomed apartments available for sale on the open market, and 32 two, three and four-bedroomed affordable houses and townhouses designed to meet Welsh DQR, Lifetime Homes and RNIB Standards. It was commissioned by Cardiff Community Housing Association (CCHA) in response to a need for affordable housing and is the first open market scheme to be developed by CCHA.
The site layout is based upon the continuation of taller, linear waterside development. The 85 apartments are situated in a seven-storey waterside apartment building, creating an eastern boundary, while the 32 high quality affordable homes are laid to the west, reflecting the existing residential developments which drop in height and scale away from the waterside.
The apartment building is clad mainly Forterra Chelsea Smoked Red, a charred red brick, referencing the site's industrial history and helping it to blend with its context.
The structural frame of the apartment block is an offsite light gauge metal frame (MetFrame), which would have required extensive engineering, i.e., the inclusion of hot rolled steel, to allow conventional brick laying at higher levels. However, this issue was overcome with the use of a brick slip system used at the upper levels where the façade steps in vertically, and above large and corner window openings.
Forterra's Chelsea Smoked Red brick is available in both standard bricks and brick slips ensuring a consistent appearance.