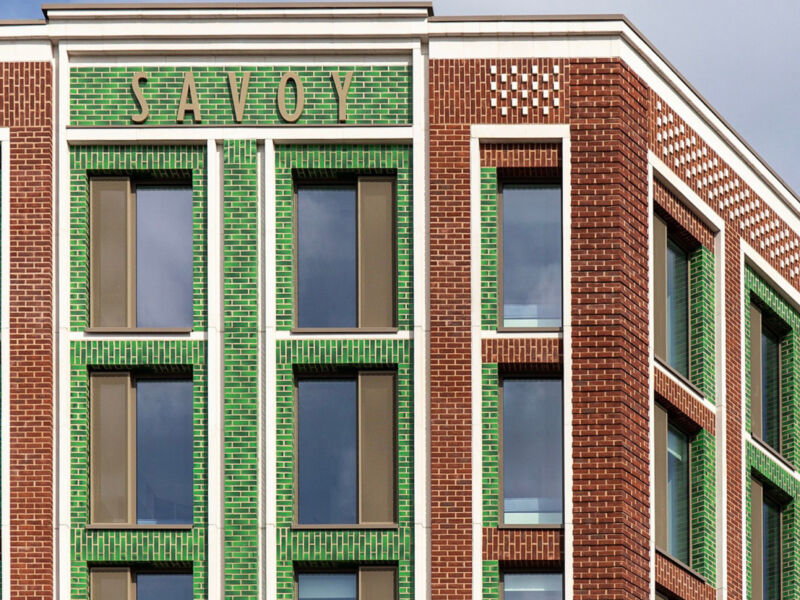 A distinctive 1930s Savoy Cinema, demolished 23 years ago, is evoked in a new student housing development built on its prominent corner site in East Acton, west London, by architect HTA Design. Designed by George Coles in 1931, the cinema was closed and gutted internally in 1962 and found use as a bowling alley and bingo club before its demolition in 1996.
Savoy Circus, which provides 300 student rooms, echoes the cinema's dominant central front, knitting into the nearby Old Oak and Wormholt Conservation Area context with its brick detailing. HTA worked with contractor Tide Construction to deliver the project using Vision Modular Systems' volumetric construction methodology.
The design responds to the busy traffic junction of Savoy Circus on Westway and Old Oak Road, signaling the development from the pedestrian approach via Old Oak Common Lane and vehicular approaches from east and west. To the western end the corner building that fronts the junction wraps around to the Westway frontage. The street elevations comprise brick pillars, setback infill brickwork and reconstituted stone framing the windows. Oriel windows on the Westway composition of brick piers capture east and west sunlight.
Materials are chosen to provide characterful and distinctive finishes, echoing buildings in the Conservation Area, which also influenced the design of the facades, townscape views and landscaping. The principal material is a red multi-stock brick with light mortar and flush pointing, corresponding to the buildings fronting Old Oak Common Lane and Old Oak Road. Expressed pilasters, soldier courses and corbeling create a play of shadow across the facade. Green glazed bricks on the tower provide vertical emphasis while an aluminium sign reflects the heritage of the site. At the rear, a lighter buff brick subdivides the gable end elevations and helps reflect light into the courtyard. The heavyweight cladding contributes to the high level of acoustic performance.
"The use of handset brick and cast stone to clad a fast-track modular building suggests that modular buildings can be indistinguishable from other types of construction systems whilst maintaining the benefits of time, cost and quality that this construction methodology delivers", suggests the architect.