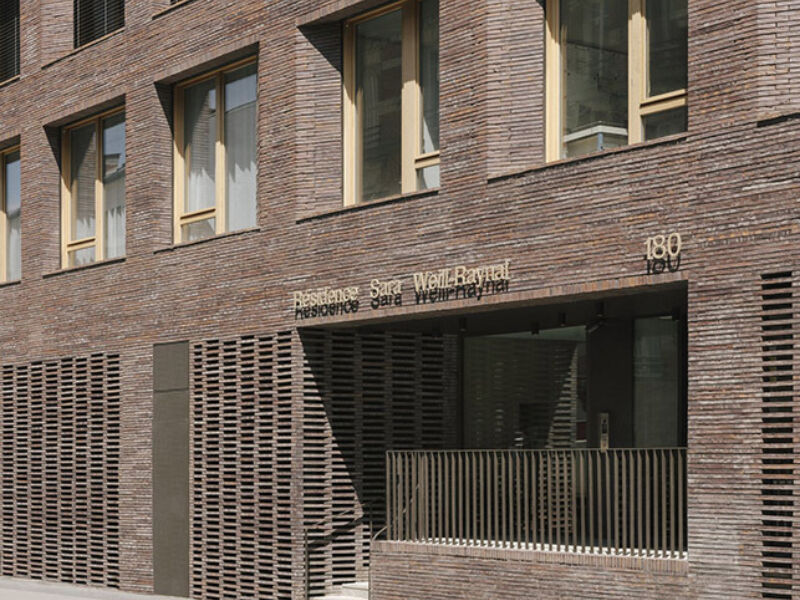 Rechristened Sara Weill-Raynal as a tribute to the Parisian doctor and Socialist activist of that name, the former Belleville nursing home in the 20th arrondissement welcomed its new residents in 2022.
The incompatibility of the former building with its function and the lack of clarity of its urban environment made us think the present project as a solution to regain coherence on several levels. First of all, by rethinking the spaces, with the purpose of readapting them as well as possible to the new needs of the program, in order to place the resident and their well-being in the midst of the preoccupation. Second of all, the project aims to bring an architectural coherence to rue Pelleport by seeking alignment with the building located at number 178 and by reaffirming the private condition of the strip of land currently located between the property line
and the alignment of the nursery home façade. The designers also sought to establish a new dialogue with the neighbouring buildings, notably through the use of a material already present on this street and which contributes to its identity: brick.
The street front of the current building is set back from the actual alignment of rue Pelleport. This situation contributes to the general lack of clarity of this alignment and creates a 2.20m wide strip with ambiguous private/public status. By thickening the building on the street side up to the property line, the project gives an alignment of the façade of the nursery home with the adjoining building, from the first floor to R+4. Its volume is increased to the maximum of the possibilities offered by the local urban plan. This provision makes possible the creation of approximately 460m2 additional space necessary to achieve the objectives of the program. It should be noted that the envelope template defined by the PLU imposes two successive recesses at R+5 and R+6. This extension has its own structural system and its own foundations. It does not overload the existing structure.
Kolumba brick was developed in 2000 by Peter Zumthor and Petersen Tegl for the Kolumba Museum in Cologne. Avenier Cornejo has used this iconic flat brick (528 x 108 x 37 cms) for the façades of a 6-storey nursing home on the Rue Pelleport in the 20th arrondissement of Paris. Inspired by the authenticity and durability of this material, Christelle Avenier and Miguel Cornejo offer residents and carers an atmosphere of dignity and calm from the interior spaces to the garden. By the same token, they have provided the Rue Pelleport with yet another contemporary architectural feature: after Soler at number 99, Borel at number 131 and Bruther at number 135, we now have Avenier Cornejo at number 180. Who would now say that this is a deprived neighbourhood?