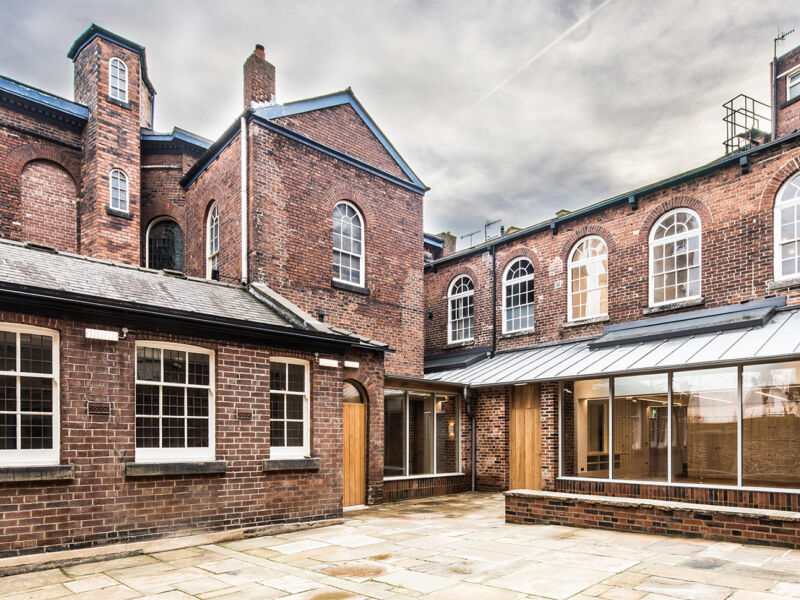 The scheme comprises the refurbishment and extension of the Hollis Building, a 19th Century former Sunday school. At the heart of Sheffield's historic Upper Chapel complex, it houses facilities shared by the adjoining Unitarian chapel and Channing Hall, both listed buildings.
The brief was to reorganise and modernise the spaces to align the building to its user's needs. In contrast to the grandeur of the rest of the complex, the Hollis Building was run down, and piecemeal alterations had damaged original masonry and period features.
The works centred around a contemporary single storey extension to the rear courtyard which infills an external niche between the existing buildings. Inspired by the typology of a cathedral cloister, the space rationalises the ground floor circulation and provides a calm, informal place for conversation or reflection. It also enables a new area of the site to be accessed by the public, allowing visitors to examine the weathered 19th Century brickwork.
The new North facade takes its cue from the rhythm of the first-floor openings above, with large timber framed windows sitting within new brickwork walls. The exposed brickwork to these deep window reveals enhances the visual connection with the courtyard beyond. Here, a low wall incorporating brick reclaimed during the works defines an outdoor terrace, extending the congregation's social space in the summer months.
The Royston Mixed Red bricks by Wienerberger, complement the range of tones and hues found in the weathered brick walls, whilst its crispness and use of vertical stack bond clearly demarcates the old and new construction.