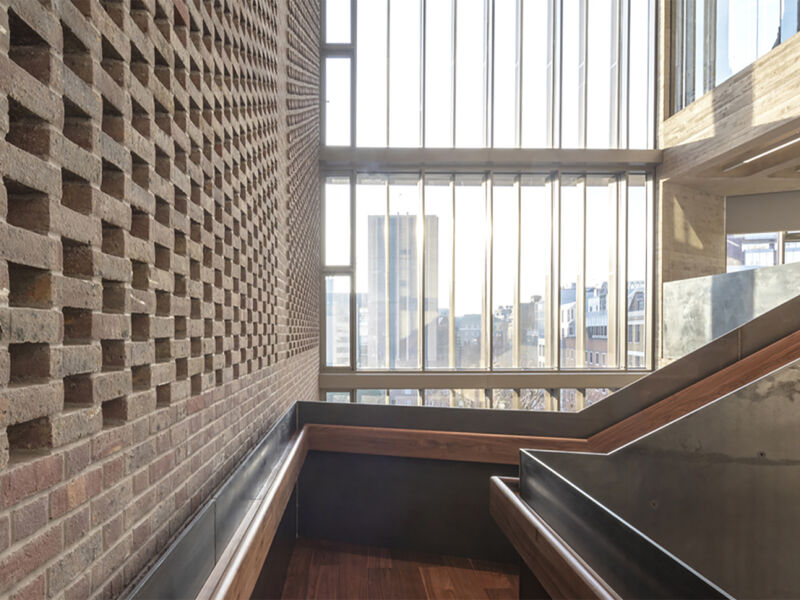 The Royal College of Pathologists has moved into its new 4,500-square-metre headquarters in East London, designed by Bennetts Associates. Offset by concrete and timber, brickwork features prominently in the building, which marks the final phase in the college's relocation from a grade-one listed building in central London to contrastingly contemporary purpose-built premises.
The new building uses materials and artefacts to reflect the character of the Royal College, with social areas, staff offices and education spaces that reference the its history and look to its future. As a key feature, the building's sixth floor steps back, creating an open-plan pavilion with panoramic views over London. The large double-height reception space can be used for hosting public exhibitions and events while the full-height windows at ground level provide transparency and a sense of openness.
Designed and built to last, the building features enduring and timeless materials: a crafted concrete frame unifies the building and integrates structure, services and lighting. The brickwork cladding, also present in the grand atria, stitches the spaces together. The structure features large spans and few columns for built-in flexibility, while a variety of materials and techniques add texture to the internal spaces.
Brickwork is used on the external faces of structural columns and walls where the grey-brown tones well with the surrounding mix of red, buff and grey brick buildings along North Tenter Street. The flush mortar is black on the external walls to unify the brick surface. Dressings and string courses are in a natural pre-cast concrete. Internally an identical brick is used to highlight the flank walls of the main double-height spaces. Here the brickwork is textured, and used in an open hit-and-miss bond which conceals black acoustic foam which helps to temper the internal reverberation of the social areas.
Environmental efficiency plays a key role, with exposed coffered concrete slabs throughout forming part of the passive cooling strategy. Natural daylight is enhanced by the large atrium that brings light into the deep-plan office spaces, and the core, set to one side to provide optimum daylight penetration.
The design responds to the college's ethos to advance the science and practice of pathology and to better serve its members. The building will accommodate its space requirements as they evolve and help it meet its strategic development objectives, providing flexible educational, workplace, social spaces and meeting and working areas for visiting members. The adaptable event spaces can accommodate large conferences, dinners, receptions and exhibitions, helping the organisation to host guests from the UK and abroad.