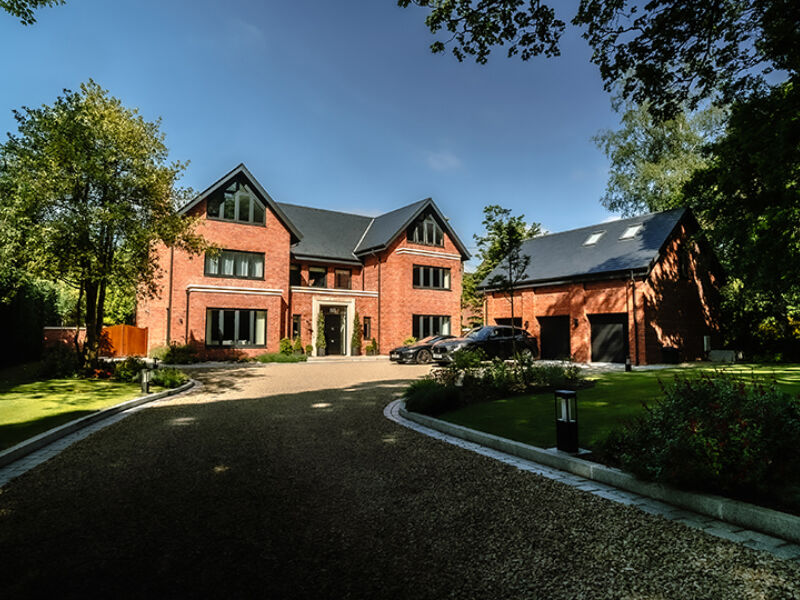 Rowan House, a large detached family home on the outskirts of Belfast, is a bold fusion of contemporary design with traditional features and materials.
It is situated on the Circular Road, an area known for its grand Victorian and Georgian properties, which has over the years become an eclectic mix of large, detached dwellings with diverse architectural forms and influences reflecting the evolution of Belfast's built environment.
The modern three storey five bedroomed property, with an adjacent two storey triple garage with first floor home office, sits on the site of an earlier structure within its existing grounds with mature vegetation.
Designed by C60 Architects, the character of this modern property captures the 'essence and intent' of a Victorian house with many traditional features and references to historic Belfast architecture in keeping with its urban fabric as an 'Area of Townscape Character'.
The design
From the front, Rowan House presents with a traditional red brick facade, balanced by the symmetry of its double bays, and formal entranceway with stone surrounds reminiscent of the Victorian era.
To the rear, the property transitions into the more expressive informality of a contemporary family home with larger glazed areas, overhanging gable ends, glass balconies and a relaxing cinema and entertainment area within.
Modern expansive bi-fold entrance doors express a continuity and the fluid relationship between interior and external spaces, taking in the natural beauty of its mature landscaped grounds.
At the heart of the property, a triple height entrance lobby, with a grand first-floor light filled gallery acts as the conduit between the traditional and contemporary elements of the design.
Traditional brickwork
Integral to the design and concept is the brickwork, which creates an important bridge and fluidity between the traditional and contemporary aesthetics.
A new bespoke Millhouse brick blend was created by Northcot Brick, in collaboration with Brick and Stone in vibrant orange and red hues with flecks of light and dark tones. These were weathered and their hard wirecut edges tumbled to give an 'instant aged' appearance reminiscent of the old brick styles seen in traditional Belfast architecture.
The use of the English Garden Wall bond pattern, once popular in the eighteenth and nineteenth century, adds a sense of luxurious detailing to the exterior which is continued into the entranceways in the form of an interior feature wall.
The addition of solder course detailing, in wienerberger's Staffordshire Smooth Blue and reconstituted stone door surrounds and coppings further references the traditional style of some of the grand Victorian houses in the locality.