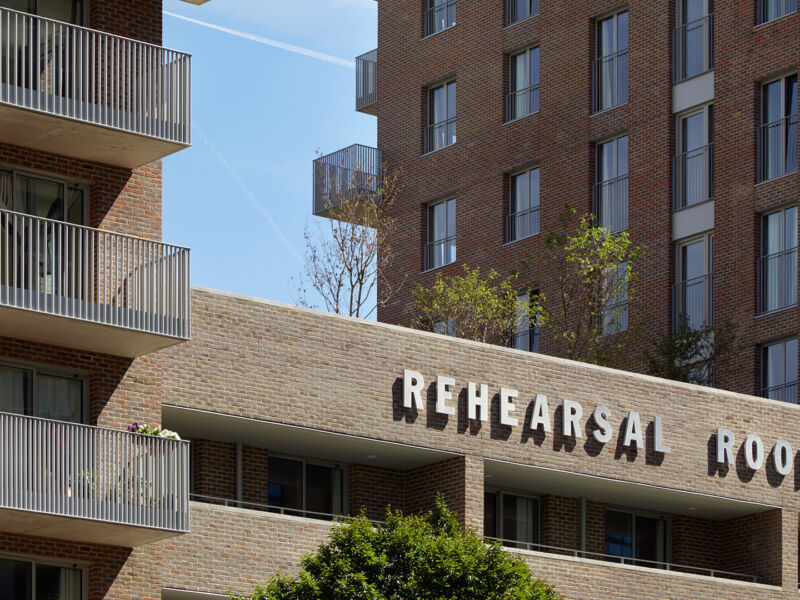 Newground Architects' Rehearsal Rooms, a high-density, mixed-use development, is one of the first purpose-designed private sector schemes for the Build-to-Rent (BTR) market in London. As part of an emerging neighbourhood centred around the North Acton underground station and public square, the project's ambition was to create a community designed around residents' needs.
The project comprises two blocks of 17 and 13 storeys linked by a lower section of four storeys. This configuration allows the building to occupy the site area almost entirely. The building provides 173 one, two and three-bedroom flats including 18% tenure blind affordable units evenly distributed throughout, without differentiation. The relaxed feeling of space belies the rigour and dexterity to accommodate the quantum of flats on a small site and not make it feel like a squeeze. All flats meet and, in most cases, exceed mandatory London space standards, with generous rooms and plenty of storage.
A logical plan of a few well-resolved repeated parts underpins the efficiency of the scheme at all levels, from maximising the use of space to simplifying structural, servicing and detailing solutions. The rational approach is expressed in the use of a small range of materials in well-considered combinations. Large sheltered balconies extend the useable private space in the open-plan flats. The concrete balconies and metal balustrades are integral to the architecture, their geometry and detailing providing articulation, rhythm and interest as well as privacy and views.
The richly coloured Freshfield Lane First Quality brickwas selected for its hand-made appearance and warm mix of red, purple and orange hues, as well as for its technical properties of resistance to moisture and frost. Thanks to the lively variety of colours, the brick appears surprisingly different under different daylight conditions adding visual and tactile interest to the architectural form and massing. A limited palette of robust materials and a strong sense of relief is accentuated by the full brick reveal to evoke solidity and permanence.
The balcony steel railings emphasise the built form and add colour balance to the building. The substantial 42mm diameter tubular steel uprights assume a real visual presence where smaller elements would dissolve and disappear in a building of this scale. The varying spacing of the tubes, from close together to further apart, has both a practical purpose making certain parts of the balcony feel more enclosed, as well as a visual role in creating dynamic light coloured surfaces in contrast to the rich colour of the brickwork.
The building's communal facilities are designed to encourage a sense of community in the context of BTR tenure. A large residents' lounge with direct access to a roof terrace, barbecues and seating areas is strategically located to be used as part of residents' everyday movements through the building. All roofs are attractively landscaped to encourage use – for access to fresh air, natural light and green space. By providing space for relaxation, play areas for children, terraces for pet-walking and allotment gardening, the building encourages social interaction at every opportunity.
Jordan Perlman, Co-Director at London-based Newground Architects, will present at the forthcoming Brick Works event on Thursday 21st March at Sheppard Robson in Camden Town, London. To reserve your tickets click here