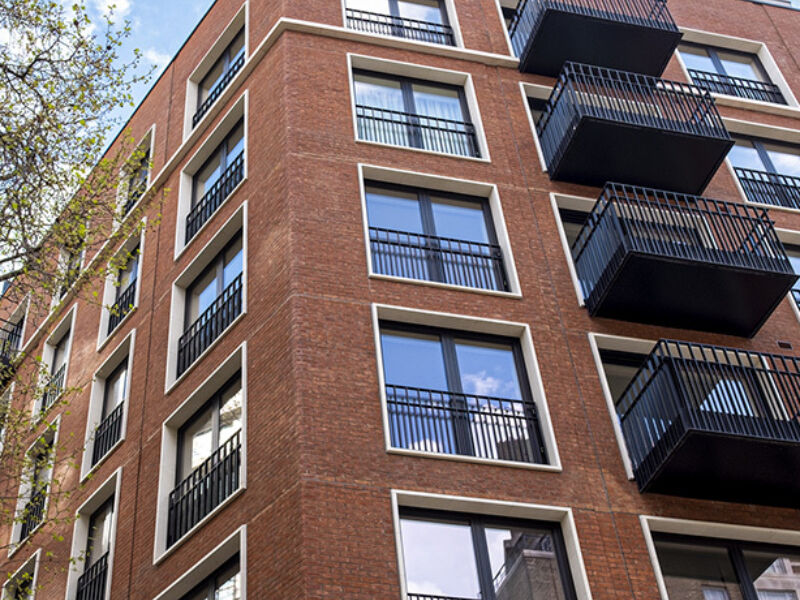 Regent House (OneThreeSix) is a mixed-use development of 45,000 sq ft of offices, 24 flats, and 4 retail units. The building occupies a whole block on the corner of George Street and Edgware Road and is within The Portman Estate in Marylebone.  It takes its scale from the interwar mansion blocks that characterise this part of London, and is faced with a combination of Limestone, brick and terracotta, a palette of materials that is sympathetic the local conservation area.
The quality of public realm on Edgware Road is poor. This high-quality project enlivens the street frontages with a piece of "London" architecture, it creates quality hard landscaped space to the north a that creates a safer and more attractive setting for the Hampton Gurney school. A substantial public art commission further enhances the local environment. All four sides of the building are activated at ground level, even servicing has been accommodated in an attractive porte cochere on the western elevation.
Material selection reflects the nature of the different environments on Edgware Road and Forsett Street, and a stunning limestone artwork, 'Grass Forms', at the front entrance is designed by artist Hugo Dalton. It is inspired from drawings made in nearby Hyde Park and brings a level of interest and tactility to the building which was completed in the Spring of 2021. Stunning Michelmesh red Charnwood bricks are used externally to contrast sleek, white and black accents. The brickwork itself draws from the heritage of interwar mansion block that characterise this section of Edgeware Road, the combined effect ensures that Regents House demands individual attention while still fitting comfortably into the surrounding vernacular.
The project was conceived and planned with sustainability and wellness in mind, the commercial uses have achieved Breeam outstanding, state of the art End of Trip facilities are provided and the staircases have been designed to encourage their use. The office spaces enjoy excellent daylight, windows to three sides and extensive terrace areas.
The building has been constructed using materials that are responsibly resourced and with an eye to the circular economy. At the same time there is a sense of scale and permanence that will contributes to the quality of the environment. OneThreeSix is one of the first all-electric powered office buildings in central London and will be operationally carbon zero from day one of occupation. Additionally, photovoltaic cells are used on the roof in addition to cycle spaces to encourage green commuting to the site.