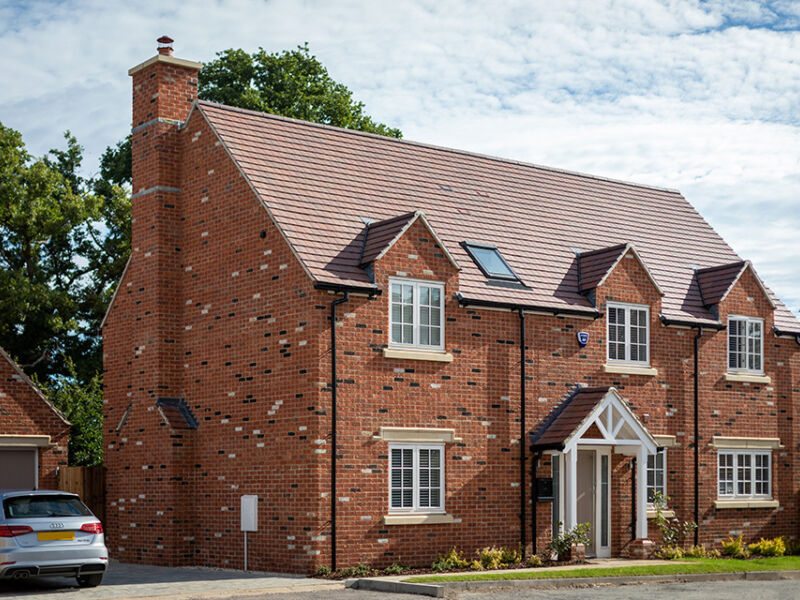 Prestwold is an exclusive residential development comprising seven detached luxury homes situated on the edge of a conservation area in the picturesque village of Brailes, near Shipston-on-Stour in Warwickshire.
The vision of the developer was to create a collection of desirable high specification modern homes that reflected the local vernacular, whilst responding well to the limited site size and the benefits of rolling open countryside to the south. The dwellings were designed to complement each other, as well as their surroundings, whilst offering a sense of individuality and uniqueness that would appeal to potential buyers.
In order to satisfy planning officers at Stratford Upon Avon District Council, the developer proposed designs that were influenced by local characteristics and materials. As natural ironstone is the prevalent walling material of the area, seen throughout the village, a comparable high-quality reconstituted stone walling material was used on five of the dwellings.
Two of the dwellings were brick-faced using Northcot Brick's 'Reclaim Mix' blend, a machine-made brick, which is traditionally fired and then tumbled to give a reclaimed appearance. This created a sympathetic degree of contrast to the stone properties thereby enhancing the 'complementary individuality' of the development.
The two brick faced properties (Plots 3 and 4) are located directly opposite each other, helping to create a visual break in the block structure of the development. A few of the garages to the stone-faced properties are also faced in the same reclaim looking brick to add to the subtle contrast.
Historically, a number of properties within the locality of Brailes had been faced with red-multi clay bricks, which over the centuries had been heavily scarred from various building improvements - paint finishes removed and burnt blemishes.
The brickmaker had the perfect variation of tones and the rugged distressed appearance of a reclaimed drag faced 'tumbled' brick with random dark and light flecks, that mirrored those existing properties within the village.
In Prestwold, the developer has succeeded in designing traditional looking development, with a sensitive mix of stone and brick faced dwellings that is both individual and complementary to its surroundings. It is a testament to the design that several properties at Prestwold were sold off-plan or under construction and the development is now considered to be an attractive and complementary addition to the village.