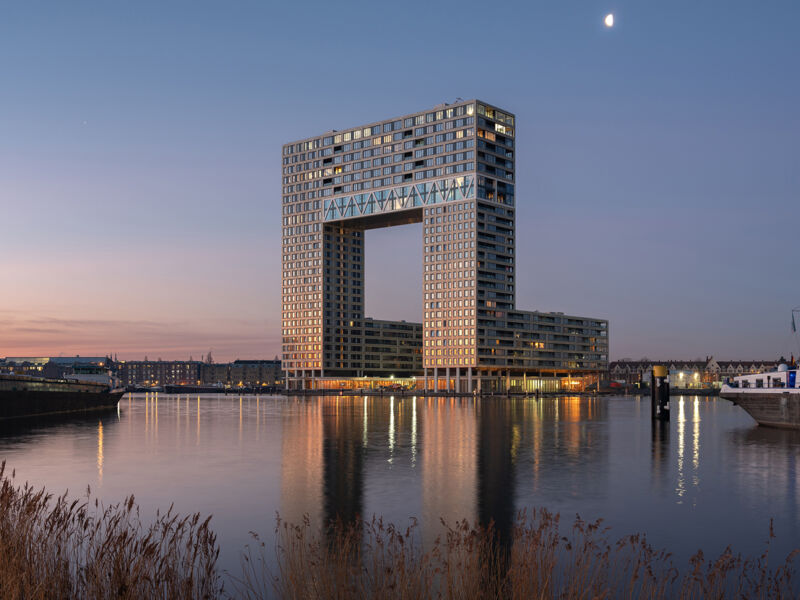 The building, designed by Arons & Gelauff, is located at the end of a 200-metre dam that projects into the water of the river IJ. The unusual form was designed with residents' preferences in mind: residential demand in the area is highest either for the top of high-rises (penthouse views) or the base, to benefit from access to city-level atmosphere. The Pontsteiger design concept minimises the part in between. 
The large building consists of a six-floor low-rise block that wraps around a plaza on the waterfront. Two slender 60 metre towers at the open end of this block frame the river view. The towers carry a bridge spanning 48 metres rising to a height of 90 metres above the city. The result is an iconic building that foreshadows Amsterdam's growth of high-rise buildings around the river IJ. 
The building is elevated 7 metres and set upon a base of four pavilions. The glazed pavilions accommodate lobbies, restaurants, bars and cafes. A marina for the residents of Pontsteiger is located at the westside. The public space on ground level provides access to the water on all sides and creates views across the river in every direction. Despite its scale, the building's elevated volume creates an astonishingly light-footed presence on site and, a constantly changing appearance, different from every part of the city. 
Flexibility is key to the design's success and a mix of floorplan typologies is employed to create apartments ranging between 65 m2 and 410 m2, adapting to variations in local market demands. 
The pavilions have sensuous curves and are constructed with sturdy timber window frames. The canopies bring a smaller scale to the ground floor and shield from the occasional downburst of wind. In the facades of the high-rise a playfully patterned grid of marble-white concrete is set with artisan glazed bricks. The chameleonic tones of green and bronze create a facade that changes with the light and time of day, just like the surface of the waters that surround the building. Extra-large aluminium framed windows open up spectacular views all around. The large balconies are set within the building volume and are protected by large glass windscreens. All exterior ceilings are clad in timber contributing to the building's warmth, while subtly referencing the area's history of timber docks. 
The project is a wonderful example of ceramic colour experimentation: six vibrant colour glazes were developed and applied to brick-slip cladding with a profiled surface finish. The brick-slip cladding panels are pre-cast in concrete sections and then fitted as a whole unit. The result is an impressive, clean-cut façade with an animated appeal that varies according to the seasons, weather conditions and angle of light. 
Pontsteiger was crowned Worldwide category winner at the Brick Awards 2019. To learn more, click here