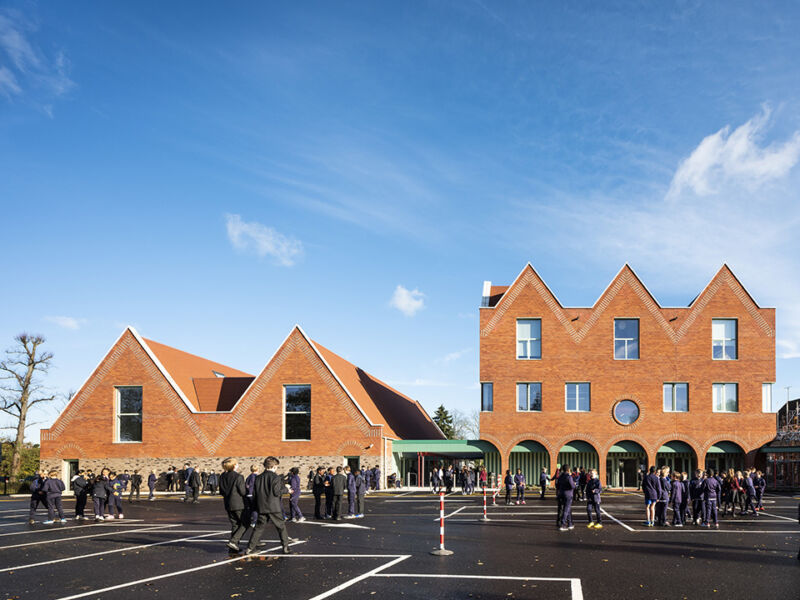 Developed within the setting of grade II listed Middleton Hall, Cottrell & Vermeulen Architecture's redevelopment of Brentwood Preparatory School in Essex includes two new buildings: a classroom block housing specialist teaching spaces, changing facilities and a reception, as well as a multi-purpose hall for assembly, dining, sports, music and drama.
The scheme's architectural character and materiality draw upon the adjacent listed building while retaining a contemporary and playful interpretation, says Cottrell & Vermeulen.
Through a two-stage procurement process, the design team worked closely with main contractor, Rooff and brickwork subcontractor, Global Brickwork, to develop construction details and reference panels as a means of resolving cuts, tolerances and quality issues in advance.
Layering through different colours of brick, facade depth and recessed elements within the arcade and entrance porch reflect the overlaid character of Middleton hall with its neo-Elizabethan and Georgian elements. Intended to complement the existing masonry structure, the material selection comprises a soft red brick and mottled grey brick made by Ibstock. The latter, which forms the lower band on the hall is a custom blend, while the predominant red brick blend provides a varied tone and texture. All the facework is laid in a quarter-bond, following the angled gable geometries at high level.
An organisational spine that links the buildings terminates at the northern tip with a deep brick arcade to the base of the classroom block. This is formed from prefabricated steel arched elements that were constructed off-site by IG Lintels and then craned into place. This technique also allowed the arches to be offset and therefore 'wrap' around the corners of the building. The remaining arches to the perimeter employ hand-laid facework.
Polychromatic patterning is used to form a bold chevron pattern to the gables with the arches and bullseye windows at lower level rendered in a contrasting grey stock brick. The brickwork gables to both buildings are hand-laid in raked soldier courses, triple stack-bonded and arranged in striped bands. This was achieved structurally with a mixture of sliding and bespoke ties alongside bed-joint reinforcement. The hand-laid arches are similarly polychrome patterned and feature handed intersections that fan out from the central arch entry points on the prominent east and west facades.