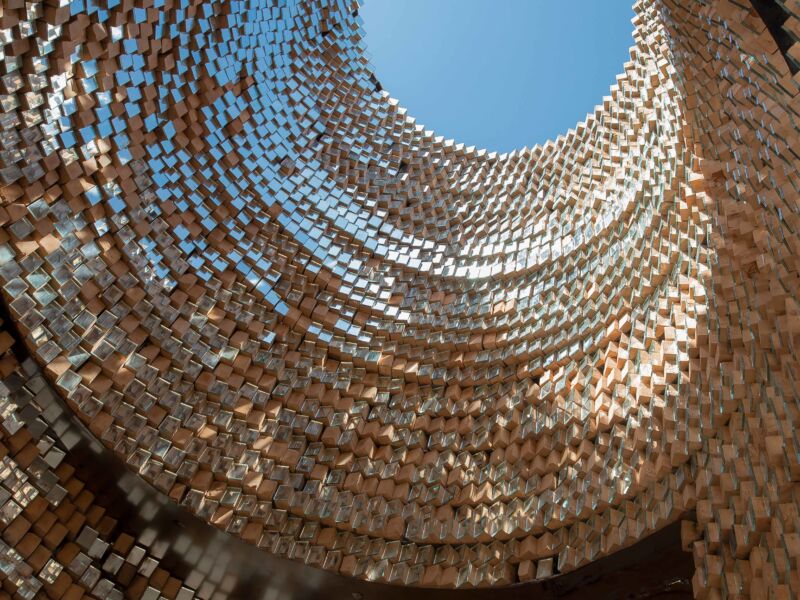 Architect, Amir Hossein of Ashari Architects, based in Shiraz, Iran, and one of the Brick Development Associations' favourite Iranian architects, created the Pause in response to the challenging architectural installation competition held near one of the most important historic gardens in Shiraz, Afif Abad Gardens. We hope that this very unusual departure from our normal Brick Bulletin fare, will lead usall  to a thoughtful and hopefully peaceful end to the year.
Providing a child-like feeling of adventure and invoking memories that most have not experienced for many years, the Pause attempts to revive those feelings using clay brick, sound, wind, steel and mirrors. Hearing one's steps on the metal sheets, peering up at the sky though the mirrored clay bricks, it's totally natural to pause and enjoy watching and listening to the manufactured light and sound features. The Pause is a simple object which viewed from the exterior appears like a metal cube in which is supported through cable suspension, a mirrored brick cone.
After passing the brick wall entrance into the cube, one reaches a dark enclosed space in which the visitor cannot hear anything except the sound of metal sheets under their steps echoing around the clay brick structure inside. Continuing through the path designed for the visitor, and through touching the brick textures, auditory, visual and tactile senses encourage the visitor to search for a light beam or an opening. The mirrors and ensuing light reflections gradually lead one to the stunning source of light from above which fills the inner space. The nearby trees and the water feature, causes shadows and reflections to cascade through the pavilion and all of this happened within a 4m x 4m x 4m metal cube.
The bricks that are used in the pavilion's cone are cut in half and installed using straps which allow them to move sufficiently enough to create a sparkling light which draws ones' attention to the light above viewed through the hole in the cone and to the sky and clouds visible on the outside. The density of the brick and mirrors increases as you move your eyes toward the upper part of the brick cone. It's a beauty to behold and experience.