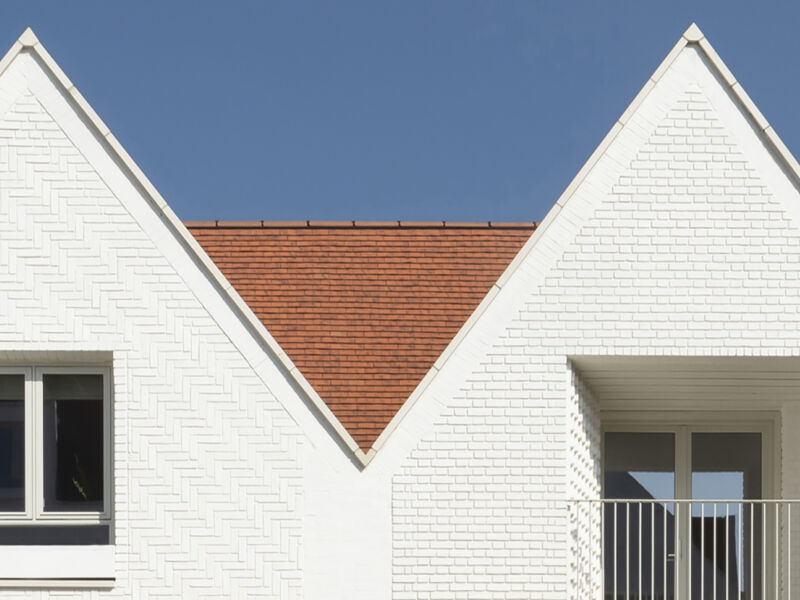 Park House is a high-density residential scheme in Harpenden, Hertfordshire, designed by architect RCKa and commissioned by innovative retirement home developer Pegasus Life. Located in a conservation area, the three- and four-storey brick and tile project incorporates 38 apartments for retired people. In recent years the town, surrounded by Green Belt land that has prevented its expansion, has struggled to meet local housing needs, particularly for older generations. The site, set among a number of listed buildings, had remained derelict for 14 years, and the architect and developer consulted with the local community to help unlock its potential.
Intended to combine a bold contemporary aesthetic with a sympathetic approach to the area's rich Arts & Crafts heritage, the scheme provides 84 dwellings per hectare, which is 170 per cent higher than schemes previously approved for the site. Characterised by a gable-topped roofline, the scheme comprises three villas arranged around a central courtyard garden.
The form of the villas borrows heavily from Arts & Crafts traditions, with a material palette of plain clay roof tiles and white-painted and dark brickwork. The brick bonds and framing reference examples found locally, and employ waterstruck bricks and recessed pointing to express the four brick bonds within the flush-pointed frame elements. Splayed and corbelled window reveals are also intended to accentuate the material qualities. The architects chose waterstruck bricks to achieve the bond fidelity it sought, but the colour was less of an issue as they were to be painted. A thorough search led them to a batch of bricks that met the technical requirements but had been rejected by the manufacturer due to discolouration, and their use resulted in a cost saving.
The residential floors have white-painted brick facades which feature a variety of brick patterns to prevent a monolithic aesthetic. A dark brick base wraps the ground floor, which houses communal and public amenities. The restaurant, located in the park-facing corner of the development, is designed to create a welcoming environment for local people and break down the gated community stereotype often associated with retirement homes.
"Bringing housing into town centre sites is more sustainable, less demanding on infrastructure and allows for higher density", says RCKa director Tim Riley. "The site is particularly sensitive, and the only way to unlock its full potential was to enhance the character of the wider area with high-quality design. Working closely with Pegasus Life, we've managed to create apartments and shared spaces that are full of natural light, as well as opportunities for wider community interaction with the restaurant open to the public. Park House has quickly become a part of everyday life in Harpenden, which demonstrates that density can work in harmony with placemaking in sensitive areas."