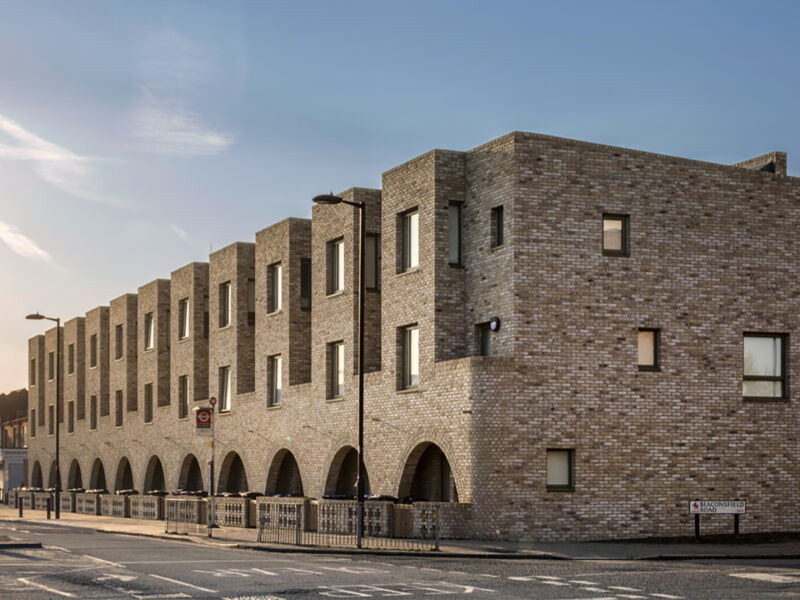 Rustic yellow bricks lend a defining and unifying character to Peter Barber Architects' Ordnance Road social housing development in Enfield, north London. The £3m project comprises a row of three-storey townhouses on the south side of the road and a rear terrace of single-storey houses with vaulted roofs that face Sparkbrook Way, a new cobbled tree-lined mews. Together the terrace and mews houses provide 15 socially-rented units for Enfield Borough, that are let unfurnished.
The rectangular 2,000-square-metre site, previously occupied by a pub and a library in a prefabricated building, suggested the comparatively straightforward linear arrangement of the buildings. This allowed the architect to take the opportunity to reinstate the street frontage, the name of which refers to the Royal Small Armaments Factory at nearby Enfield Lock on the River Lee.
The brickwork is in shades of yellow that afford a variegated effect, in contrast to the red brick of the surrounding suburban terraces and suggesting a lighter and more contemporary character. The street frontage is marked by a sequence of brick lattice walls and arched openings that form sheltered porches or 'social thresholds' to the front doors, and insets to the upper levels that articulate the development with a vertical emphasis in sympathy with the residential neighbourhood. These two-storey indents accommodate small first-floor balconies and increase daylighting opportunities within the floor plans. The architect's initial proposals had envisioned setting back the upper storeys of alternate houses, and marking this with different brick colours, which would have enhanced the articulation, though this is not missed, given the relatively modest scale of the development.
The houses each contain a 16-square-metre, open-plan kitchen-dining room at ground level, with full-height, south-facing glazing overlooking a small patio area which gives onto a back garden. A bedroom, bathroom and living room occupy the first floor, and the second floor has two more bedrooms, one with an ensuite bathroom, and a skylight over the staircase.
The separate bungalows feature shallow vaulted roofs set perpendicular to the street, which allows the lateral brick-gabled entrance elevation to open from a private courtyard. Ground-floor L-shaped rooms incorporate the kitchen, dining and living areas. Two windows to each house address the mews, one large-scaled at three metres high by 1.5 metres wide. The sole bedroom, which looks out from the smaller window, is also generously proportioned. Parking is provided along the shared surface of Sparkbrook Way. As the 2019 RIBA Awards jury commented, "the development subverts expectations of what affordable houses should look and feel like, with generosity of spirit and economy of means".