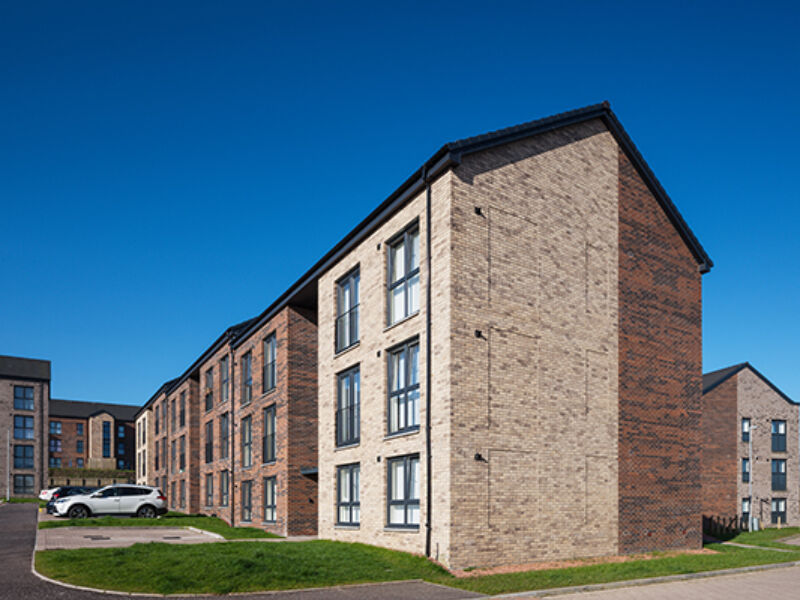 This attractive affordable housing development at the former St Stephen's High School site in Port Glasgow provides much needed accommodation for a diverse range of local people. A substantial site stretching to 6 hectares, it represents an investment of £35 million by River Clyde Homes (Inverclyde's largest housing association).
A total of 224 homes have been constructed by Cruden Building and Renewals, with 54 houses (a combination of terraced and semi-detached) and 170 flats in three separate four-storey blocks. This includes specialist accommodation for residents with additional needs: 24 dementia-friendly flats, eight wheelchair-accessible flats, as well as retirement housing.
The scheme, which was designed by architects CRGP, respects Inverclyde's historic urban fabric, built cultural heritage, natural environment, and the site's picturesque setting on the coast and upland moors. The character of the area was therefore faithfully preserved and rejuvenated through robust well-designed homes.
CRGP's concept also responds to the distant context of the site: the new homes fully utilise the stunning views over the River Clyde and beyond while utilising the natural topography. The development therefore sits comfortably in its space and complements the local urban fabric and the surrounding natural environment.
The bricks carefully chosen to fulfil the architects' vision were predominantly Drumquinn, a brown extruded brick with a light texture manufactured by Tyrone (a subsidiary of Ibstock). Ibstock's Leicester Weathered Greys, thrown soft mud bricks with a grey colour, provide an eye-catching contrast on certain elevations and give the development a unique modern, yet homely, appearance.
The development was also built with sustainability in mind. The high-quality homes are energy efficient and meet Silver Aspects 1-7 credentials. This enables the residents to reduce emissions and save on their energy bills. The project also caters for a diverse cross-section of the community, and is playing a key role in River Clyde Homes' ambitious regeneration plans: the aim is to build up to 750 new homes over a five-year period.
Bricks: Ibstock, Drumquinn and Leicester Weathered Grey
Architect: CRGP Architects
Contractor: Cruden Building and Renewals