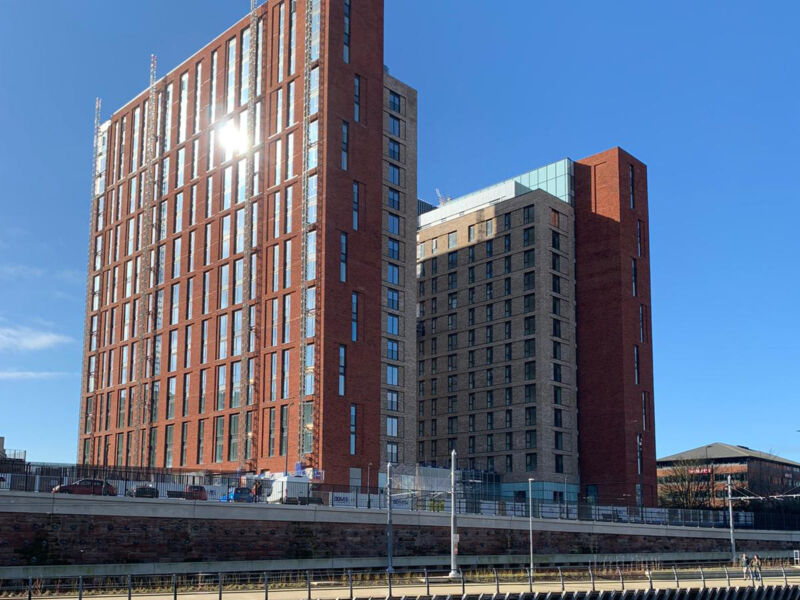 No.1 Old Trafford is a landmark development at the heart of the northern powerhouse, which combines waterfront living with excellent connectivity to central Manchester and Salford Quays.
Located at the gateway to Trafford Park, its simple, elegant design, using high quality materials and heritage brick, respects the history of the site, as well as helping define its future. A pair of iconic 'Skyhooks' sculptures, on either side, also pay tribute to the region's industrial heritage.
The scheme comprises two tower blocks, 15 and 18 storeys high respectively, which provide 214,000 square feet of residential and amenity space, including 354 residential units in a mix of one, two and three-bedroom apartments. Communal terraces on the 13th and 17th floors offer impressive views of Manchester City Centre and MediaCityUK.
The two towers are connected at first floor level by a large full-length podium with communal gardens overlooking Salford Quays. At ground level, there is a central reception area, Residential Lounge, a Business Lounge, Cinema Room, plus private parking and a cycle store.
The original design concept for the scheme was a pair of slim linear buildings: a formal outer brick elevation and a lighter more playful inner elevation facing the podium garden. However, due to the close proximity of a nightclub, a more robust sound absorbing material was required, which meant that the courtyard facing elevations would also be constructed in brick.
The formal outer red brick façade uses Forterra Chesley Smoke, which has been chosen to complement the surrounding buildings and create the simple, elegant detailing required to achieve the 'mature' design.
The rhythm of this façade is ordered, with a sense of depth achieved through set back brick panels and an additional level of brick reveal to create the notion of a three-level façade. The building is also carefully grounded to accommodate the requirements of the Ground Floor functions, whilst retaining the desired aesthetic.
The pale inner facing façade, which uses Bronsgroen, a buff coloured multi soft mud moulded stock brick from Wienerberger, is made less formal by using the same three-level façade technique. This creates shifting 'ribbons' of brickwork, where each 'ribbon' is set back to create relief in the elevation and within each 'ribbon' the brick coursing is pushed and pulled to create horizontal lines of light and shadow. This play on the composition of the façade and the articulation of the brickwork within it continually shifts and changes depending on daylight conditions and the contrast between light and shade.
At the top of the inner brick building is a level of set-back apartments and above it a terraced area for the residents. This communal terraced area is accessed from a glazed corridor, a deliberately contrasting element, which is used as an architectural device to split the outer and inner brick and to break down the massing, allowing the blocks to visually slide past one another.