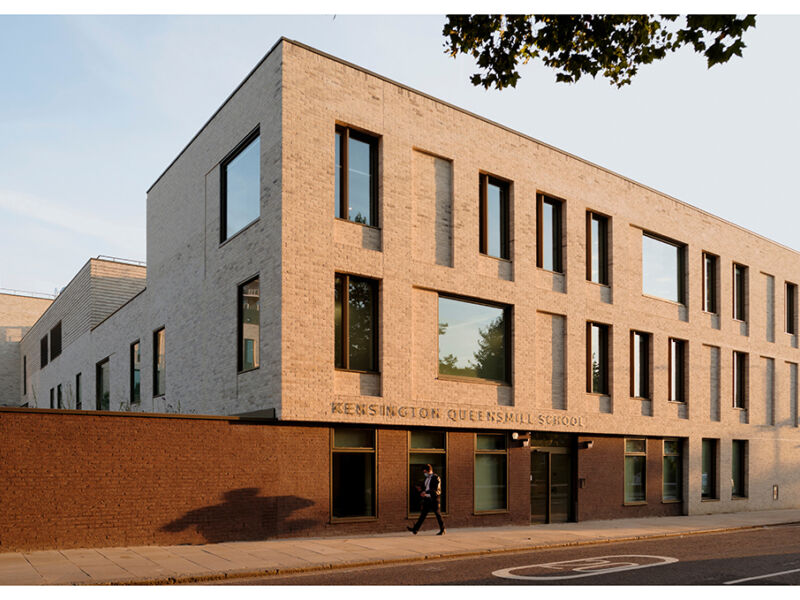 A new, innovative primary school and the first dedicated Special Education Needs school in Kensington & Chelsea, London. Project The two-form entry Barlby Primary School includes a nursery, and the Kensington Queensmill School is the first school designed specifically to meet the needs of young people with autism and severe learning difficulties in the borough. The schools have been combined as one new building on the site of the old Barlby School and have a smaller footprint than the original building. It is Z-shaped in plan to provide separate playgrounds, entrances, and identities to both schools, whilst offering the mutual benefit of shared services. One of the Royal Borough of Kensington & Chelsea's (RBKC's) key aspirations was that the new schools should reflect the borough's pride in education and create a sense of place. Penoyre & Prasad's design achieves this by successfully creating two schools that are embedded within the community – sitting together harmoniously yet having distinct identities. The loss of external play areas as a result of the reduced site footprint has been offset by the creation of five roof terraces, to maximise opportunities for enriched learning and play, for the school and for the local community.
The palette of materials was carefully considered in terms of the effect that colour, pattern, and contrast may have on students with sensory perception concerns. The carefully tailored design of the external elevations was developed to fulfil the requirements of the sensitive planning context. A Burwell White Light Weathered brick reflects the brickwork and materials used locally in the terraces around Ladbroke Grove.
The building presents a face to each different context on each side, and the façades respond in a manner most appropriate to each situation. The façades closest to the main roads use a formal composition with careful proportioning of the windows, and the brick façade of the building is articulated to respond to and compliment the historic Oxford Gardens Conservation Area neighbourhood.
The façades and terraces perpendicular to them are adapted to have a 'low arousal materiality' to the internal elevation areas, which are particularly perceived by children with autism. The brick-and-mortar type blend gives a monolithic look, reducing the appearance of individual bricks, in order to minimise a specific visual and behavioural response from the children. The central school halls have sections of alternate recessed course brickwork to express the school halls which form the connection between the volumes of the two schools.
Metallic bronze aluminium is used for window frames, with dark brown Java brick sections to match and connect to the existing boundary wall on Barlby Road, and a Bronsgroen London-stock type brick to other boundary wall areas with metal
railings including perforated panel artwork.
The low energy, BREEAM Excellent design includes extensive PVs, mechanical ventilation systems with heat recovery, and night-time ventilation for passive cooling.
Brick Manufacturer: Wienerberger Ltd
Brick Contractor : Lesterose
Architect: Penoyre & Prasad