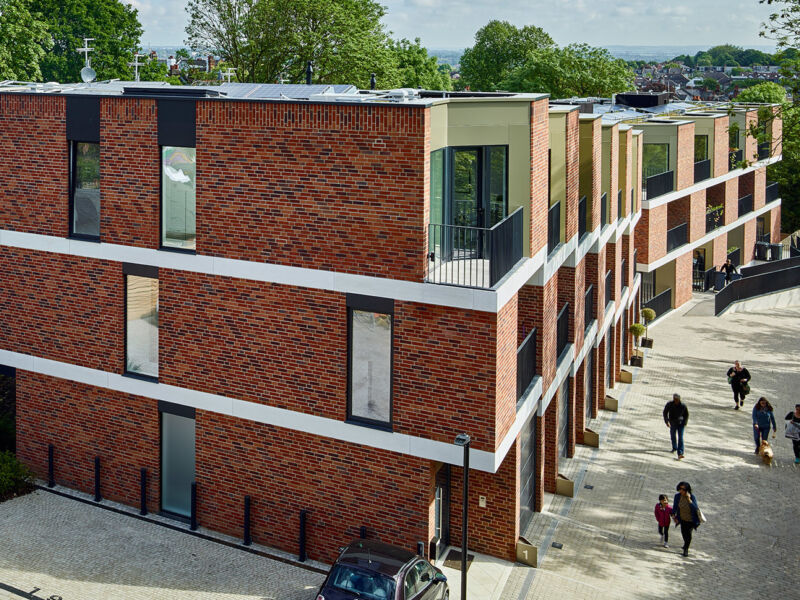 The Pinnacle N10, by architect pH+, is a contemporary housing scheme that follows the topography of its site in Muswell Hill, north London. The design draws on a detailed analysis of the local Edwardian context, with a modular reinterpretation of the surrounding housing stock.
The development is divided into three separate blocks, which are adjusted as they descend the hill, with each addressing the particular conditions of its location. The first section comprises the conversion of an existing building, previously a restaurant and night club, into eight new flats, with a community and commercial space below. This was originally intended to house the London Centre for Children with Cerebral Palsy ( LCCCP), whose existing building, deeper into the site, was considered no longer fit for purpose. The LCCCP has since been relocated to a site north of Muswell Hill in a new-build timber structure, also designed by pH+.
In the central part of the scheme, a row of six modular houses steps down the hill, articulated by a series of deep recesses that form terraces for the occupants. The reveals are lined with metal panels that differ in colour, with the palette extending to interior details, providing each home with its own identity. In the third part of the development to the north-east, a horizontal block contains 14 apartments with a distinct saw-tooth profile at the rear, designed for views and prevent overlooking of the neighbouring gardens.
Materials and detailing are of the highest quality, to correspond with the character of the local context. The brickwork for the new build is laid in a Raking Monk bond that provides a contemporary aesthetic, cascading easily with the stepping profile (new brick interventions in the refurbished building are laid in Flemish bond). No cut bricks were used on site, which provided significant cost benefits, while stone banding was made from the largest possible pieces and cut to accentuate the diagonal topography of the site. The overall effect of these devices is to maintain the rich sculptural quality of the neighbouring houses but without resorting to pastiche.