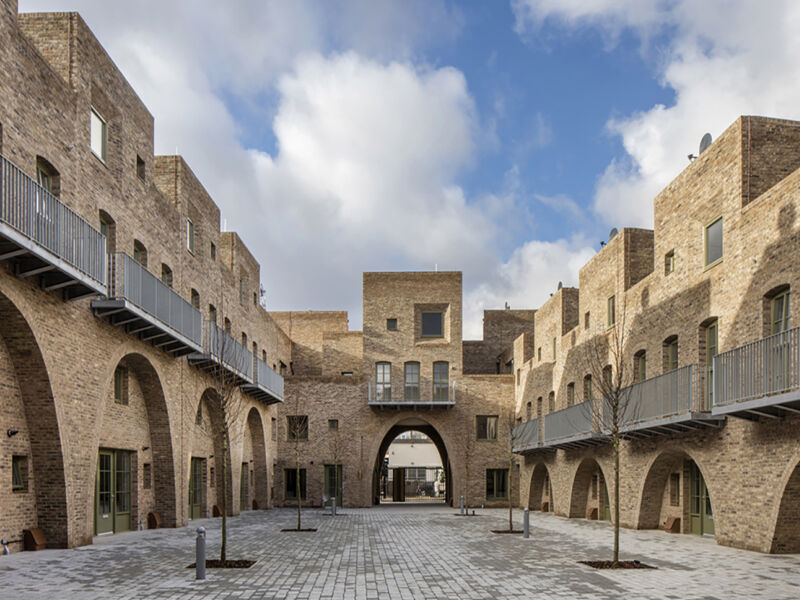 McGrath Road in Stratford, east London, comprises a perimeter block of what its architect Peter Barber terms 'tower houses' arranged in terraces around a rectangular courtyard. If the footprint seems a straightforward, rational urban response, the design and configuration of the 26 homes represent another step in the inventive approach to residential design that Peter Barber Architects has explored over the dozen or so years since completing the Donnybrook Quarter in nearby Bow.
The McGrath Road site has street frontages to the north and west, and neighbouring boundary walls to the east and south. The terraces on the street sides exploit the dual aspect potential in their arrangement as back-to backs, with half the houses facing and opening off the street, and the other half off the courtyard. The narrower terraces to the east and south are single-width, accessed from the central courtyard and set away from the boundary to provide small back yards. All the dwellings also feature small roof terraces, a hallmark of the practice's previous projects. "They represent a radical reworking of the 'back-of-pavement' terrace and 'back-to-back' house types", suggests Peter Barber.
Commissioned by the London Borough of Newham, the project includes 19 two-bedroom units and seven with three bedrooms, giving a comparatively high density of 620 habitable bedrooms per hectare. The houses are intended as shared occupancy starter homes, with priority given to local residents, whereby a council loan supplements a standard mortgage. The houses follow the Greater London Authority's guidelines in terms of room sizes, with the back-to-backs arranged on four storeys and the remainder on three, with the uppermost floors of both types providing a living room and terrace. With essentially one room on each floor, corridors have been largely excluded from the design. The houses feature double-height arcades frontages onto the square and the streets on the north and west sides.
Most of Barber's projects since the white-rendered Donnybrook development have been built in brick. The mottled appearance lends variety to the facades, which are offset by galvanised steel balconies and green timber doors and window frames. "I love bricks", says Barber. "At McGrath Road they convey a feeling of solidity, permanence and mass. This is reinforced by the use of deep reveals, haunched on the top floors, and the deeply recessed arcaded front of each individual house."