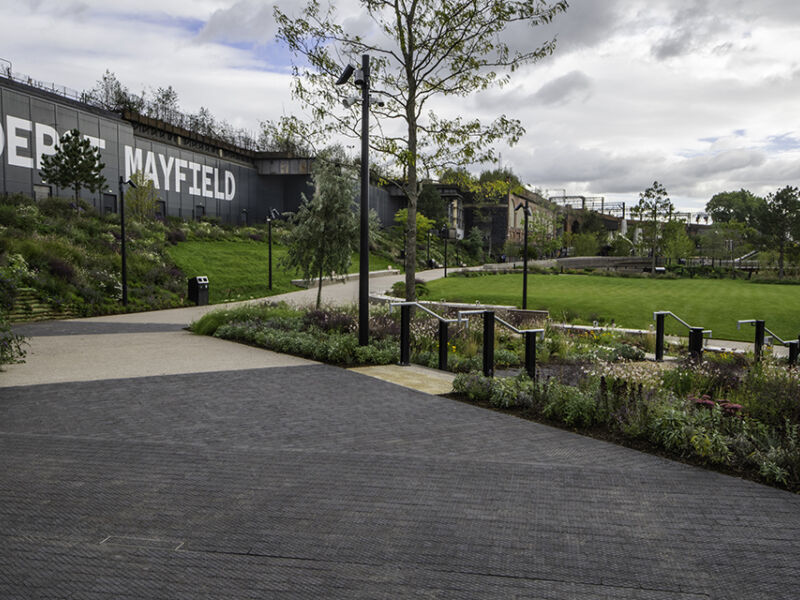 Mayfield in Manchester has a rich industrial history and is on its way to becoming a thriving mixed-use community right in the bustling city centre. At its heart is the new Mayfield Park, 6.5 acres of green public space on the banks of the River Medlock. Designed by Studio Egret West, the park provides a haven of open space for all to enjoy within this new urban development.
A key part of our approach was to ensure the new park was authentically connected to its industrial past", explains Duncan Paybody, Director of Landscape at Studio Egret West, lead landscape architects for the scheme and park designers. 82,000 Ketley Staffordshire blue diamond chequered clay pavers, supplied through Hardscape Products Ltd, have been laid in the park, providing hard landscaping for pathways connecting the sequence of spaces, their traditional diamond pattern providing extra traction underfoot in wet conditions. Their specification by Studio Egret West was primarily heritage inspired. The old historic railway depot with its original Staffordshire blue brickwork still lies alongside the park and the authentic blue brick colour of Ketley pavers and their traditional character and pattern suited the context of this site perfectly. The architects were also keen to select a material that would be timeless and not look out of place or dated 100 years on. Made from Etruria marl clay, Ketley's Staffordshire clay pavers have incredible strength and durability, and were often used in Victorian times beside canals and waterways, railways, and industrial developments where you can still find them today; they have passed the test of time. Sustainability was also at the heart of the design for the park and using regionally sourced materials was therefore another important factor.
The river Medlock has been uncovered and opened up after more than 50 years under concrete, so that it meanders through the park introducing nature and attracting wildlife to this unique urban space and connecting it to whole of the Medlock Valley. Many industrial artefacts, recovered from the site, have been scattered throughout the design, carefully placed to blend with the landscape and contribute to the industrial character. A vast public play area has also been designed to fit the historical context with towers inspired by the archaeological remains of octagonal industrial chimneys found on site. Even down to the planting, the park is true to its industrial roots, with its history of producing purple dyed fabric prints celebrated with the planting of purple plants particularly at the park entrances. The architects really have created an authentically Mancunian city centre park, with a distinct character that is fully grounded in its industrial past.