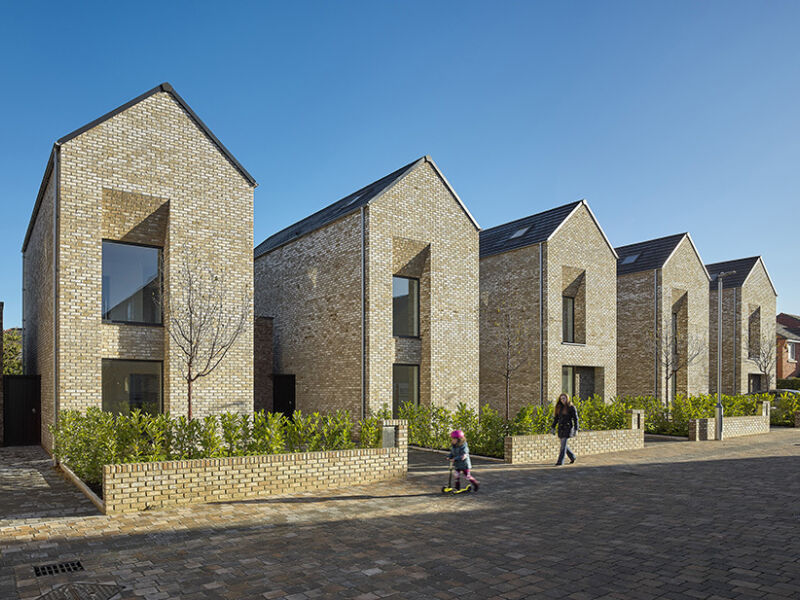 Located on a former factory site in Crosby, Liverpool, The Gables is a development of 30 new-build houses designed by DK-Architects. The scheme combines affordable and open market homes in a mix of two, three and four-bedroom units.
Varied house typologies are employed across the site, with an outer perimeter of detached and semi-detached homes arranged around a high-quality shared surface, and a central terraced block of back-to-back courtyard houses. 
The different dwelling types are visually connected through the considered repetition of detailing and a consistently proportioned gable frontage. This provides both visual coherence and strongly defined street facades. Deep reveals, chamfered brick window heads and cranked eaves roof windows help to give the scheme its own distinct identity.
Critical to the overall appearance of the development are the repetitive brick gables, which provide a sense of solidity and permanence. Restrained masonry detailing has resulted in a crisp, pared-back aesthetic that includes fascia-free eaves and galvanised steel guttering. The monolithic nature of the brick gable is amplified by deep 'carved' recesses and chamfered panels. The latter comprise prefabricated panels clad in matching brick slips.
The main facing brick made by both Wienerberger and Caprice, was chosen for its subtle textured finish and tonal variation. It also contrasts with the darker window frames, metalwork, and single-storey recesses, which are all faced in a black brick. The latter was selected for the complementary tones contained within its mix. Overall, brick provides a characterful and robust environment that will stand the test of time and provide a sense of wellbeing for future residents, says the architect.