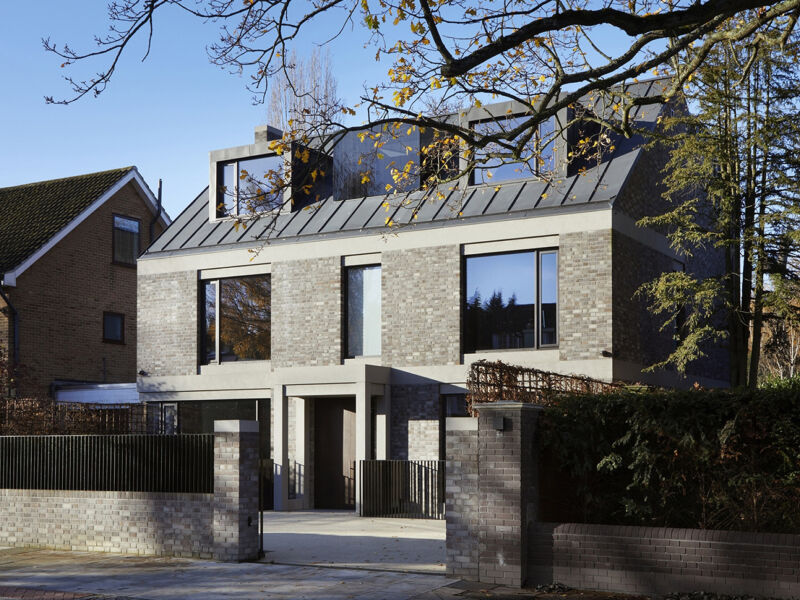 Set within the Highgate Conservation Area, an area characterised by a distinct Arts & Crafts and 'Quennell' vernacular, Kenwood Lee House is conceived as a contemporary interpretation of a double fronted suburban villa. Designed by Cousins & Cousins, the front elevation references the traditional brick language of the street, whilst the rear is uncompromisingly contemporary and affords unencumbered glazed views towards the woodlands at the rear, benefiting from its westerly aspect.
Internal spaces are anchored around a board-marked concrete core which forms the top-lit triple height heart to the house. The design plays on scale and form, providing a composed sense of calm throughout. The building takes the occupant on a journey from the minutiae and intimacy of the material detail, through to the generous volumes and light of its circulation spaces.
The client, also a successful builder, operated as main contractor on the project, able to interpret every nuance of the architect's design. Their mutual obsession with attention to detail proved instrumental in creating the family's dream home.
In keeping with the Arts & Crafts heritage of the area, the architecture seeks to celebrate the joy of making and an attention-to-detail and craft extends throughout; from the visceral delight of the concrete walls; the alignment of shadow gaps, to the individually crafted bespoke strike plates on the doors.
The interior design, material choice and layout are harmonious with the exterior built form and narrative of the project; articulating a considered interplay between an honesty to materiality, and the rational plan.
The Bemmel Blue stock clay brick is a 65mm machine made brick and was chosen for the front and side elevations due to its light textured appearance and multi-coloured variance, which complements yet contrasts with the traditional vernacular stock brick found in the area.
The choice and colour of brick and flush pointing in the same tone were deliberately used to unify and homogenise the elevation to accentuate the horizontal render banding, allowing the asymmetric windows treatment to 'slip' past each other, providing for a more contemporary design.
Careful consideration in brick detailing was undertaken including the stepped brick side chimney; perforated brick window screen, and flush pointing which pays homage to the arts and craft movement so evident in the surrounding buildings.
The result is a building that reinterprets and, subtlety subverts the traditional suburban villa, presenting a poised and elegant elevation to the street. Kenwood Lee House was celebrated winner of the Individual Housing Development in the Brick Awards 2019.