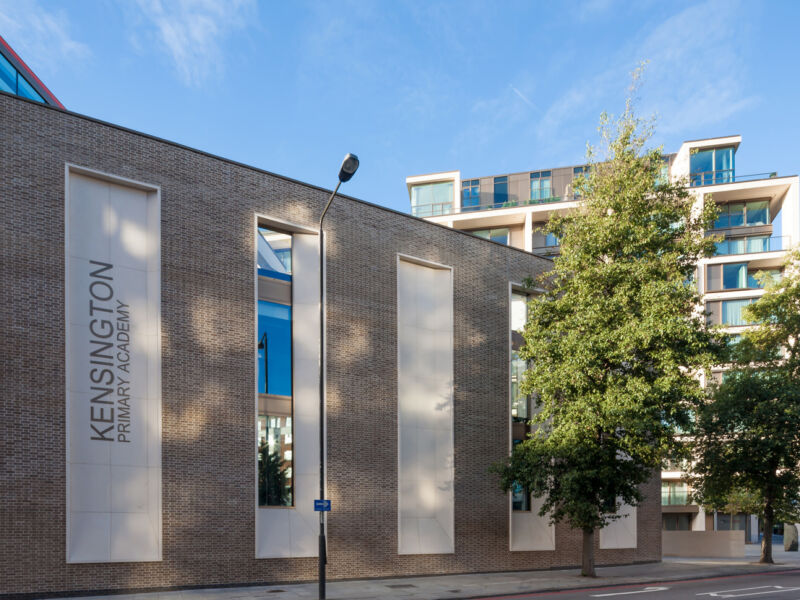 Kensington Primary Academy is a newly completed single form entry school for pupils aged from 4-11 years old. Located on the prominent corner of Kensington High Street and Warwick Road, the school is part of Squire & Partners' Warwick Road Masterplan.
The Royal Borough of Kensington & Chelsea in London is both the smallest local authority in England and Wales and also the most densely populated, presenting a challenge in providing infrastructure for these growing communities. Kensington Primary is the first new purpose-built school in the borough in over 100 years, creating places for 210 local students as well as public facilities for wider community use.
Squire & Partners approached the design of the tightly constrained site as an opportunity to maximise use of the available space, creating courtyard play areas, a rooftop playspace including quiet zones, and a multi-use games court at basement level. A full-height central atrium and multiple rooflights create an airy light-filled space while also providing privacy from the busy roads surrounding the site on two sides. A wildlife garden and landscaping provide green spaces for learning and play, and improve air quality for students and teachers.
The facade employs a playful and animated design, composed of handset brick and prefabricated stone panels with brightly-coloured rooftop glazing casting rainbow shadows throughout the atrium.
Stockwool completed the detailed design, adopting a prefabricated, cross-laminated timber superstructure to provide excellent acoustic and thermal performance, fast construction and a watertight building in just a few weeks. The CLT structure was manufactured in Austria from sustainably managed forests and it is professed, outperforms steel and concrete in terms of embodied energy, carbon emissions and waste.