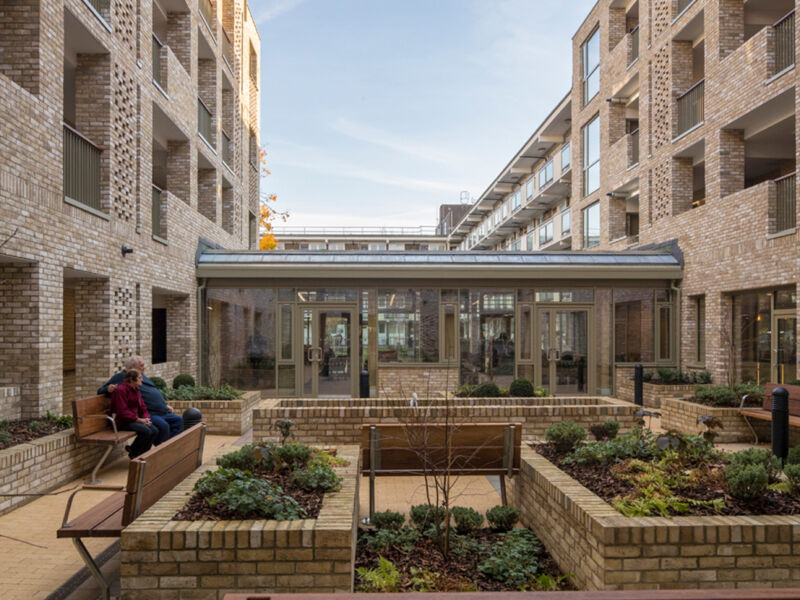 Hazelhurst Court develops an under-used site adjacent to Beckenham Hill station in the London Borough of Lewisham to provide 60 affordable homes for older people and extensive communal spaces. Designed by Levitt Bernstein for Phoenix Community Housing, the development adjoins an existing 1960s flat block, arranged as three wings on a 'pinwheel' plan, to form a more urbane horseshoe shape. The new configuration creates two new courtyards, and set between them is a garden room that provides gathering and dining space. A second, smaller building is placed to the south, opposite across a newly landscaped shared-surface street.
"Being mindful that many older people spend more time inside", says Levitt Bernstein, "the design concept is centred on bringing the outside in". The homes are mostly accessed via outdoor galleries, and all of them are dual aspect to help provide good daylighting, ventilation and to establish connections to the courtyards and neighbouring streets. Planters and seats in front of kitchen windows add to the sense of greening and community, while creating opportunities for personalisation and socialising. Similarly, the new garden room provides a light-filled communal space for all residents.
The courtyard facades are designed in response to the internal layouts. Brick lattice screens are set in front of entrances to provide a sense of privacy without losing all daylight and visual connections, while those areas in front of the seating are open to offer views. The grid extends into the landscape, with the courtyard featuring a pond, brickwork raised planters and seating areas, and there is a contrasting 'softer' looped pathway. All areas of the scheme have level access and doors are automatically-opening.
The carefully designed brickwork throughout the scheme includes hit-and-miss protruding brickwork panels that tie the windows together and stitch into the proportions of the adjacent existing building. Generally, brick lattices are employed to provide visual screening and soldier coursing delineates the key datums.
The building is concrete framed, with structural glulam timbers used in the garden room. The primary cladding material is high-quality brickwork, and this is complemented with powder-coated aluminium and Iroko for handrails and seating areas. The design of the brick walkway screens were developed so as to include deep brick returns to marry the adjacent brick piers while also providing lateral stiffness in order to avoid the need for additional steel bracing.