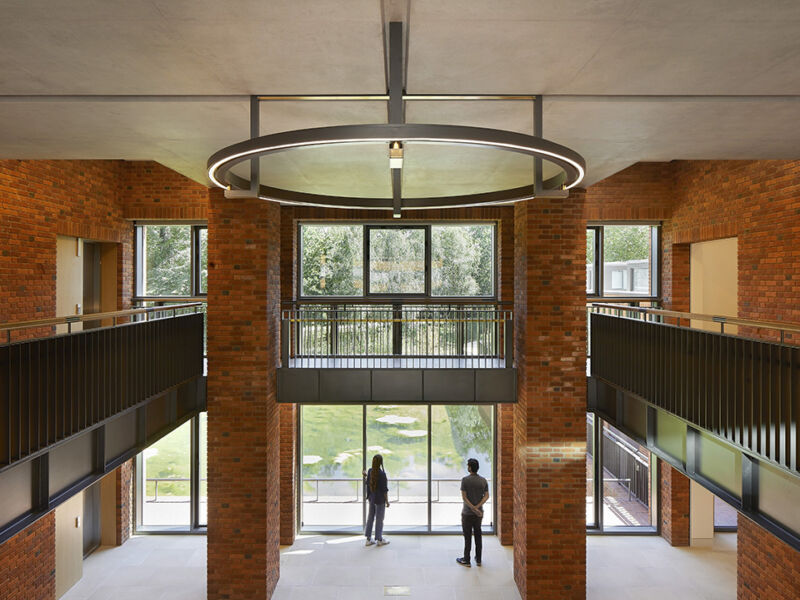 Designed by Wright & Wright Architects, the new library and archive at London's Lambeth Palace houses one of the most important collection of religious books, manuscripts and archives in Europe. The story of the brickwork begins with Morton's Tower, the historic gatehouse to which the new library and archive is connected via the boundary wall, writes Stephen Smith, partner at Wright & Wright.
The building is conceived as a thickening of the boundary wall, shielding the garden from traffic noise, and raising the precious collection high-up and away from the risk of flooding. Morton's Tower is gnarled and worn with high levels of patterning and patina giving it a wonderful presence. From this context came a tweedy palette of mixed reds with a burnt header running through it.
Archive buildings by their function are largely windowless. This places extra importance on choosing the right brick and deploying it in a way that brings pattern and texture to the elevations. The handmade bricks comprise a bespoke blend of three different reds, as well as a burnt grey-brown brick hand made by Ibstock's factory in Swanage. The selection was tested through mock-ups and samples on site, resulting in a mix of 15 per cent of burnt headers.

The Flemish bond incorporates a variety of patterns comprising expressed control joints in a single-sided bullnose, triple-soldier courses at wall heads, and rustication – formed via recessed courses – to the street elevation. Stair cores at the end of the two wings are picked out in a cross motif formed of recessed diapers. This also recurs in a random selection within the entrance Hall. The central tower has a distinctive pattern of sawtooth bricks set periodically through the middle band. This gives a deep rhythm when shadows are cast.

The joints are bucket-handle using a natural-coloured mortar. Principal openings are marked by brick-slip-clad brick lintelss forming deep reveals in the elevation. The handmade red brick skin of the elevation wraps into the entrance hall bringing continuity of the external materials through into the internal arrival and orientation space. The brickwork joints change from bucket-handle to raked in the entrance hall as part of the acoustic design.