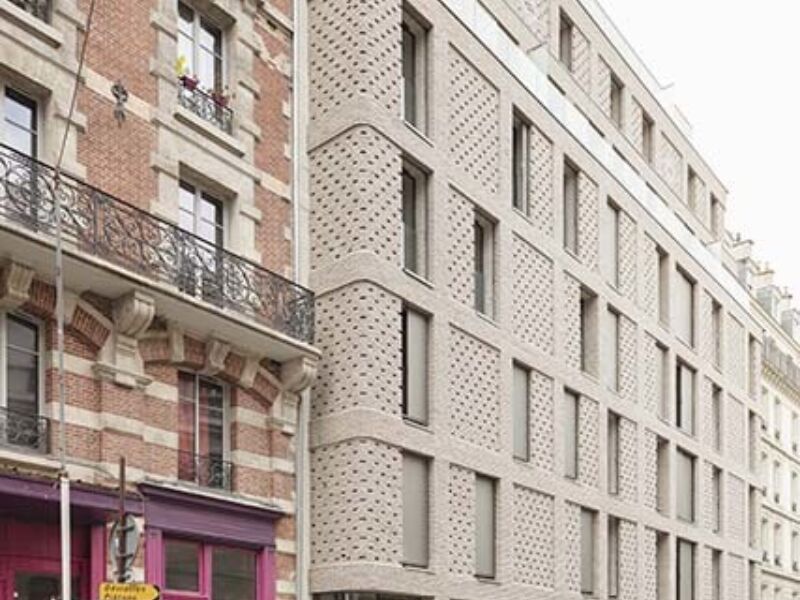 Won in competition by Avenier Cornejo Architectes, Rue de Charenton is a £3.2m social housing scheme located on one of Paris' oldest and longest streets in the 12th arrondissement. Planned around a rear-facing landscaped courtyard, the eight-storey building comprises 22 apartments and two ground-floor retail units.
Clad predominantly in a textured, pale cream Roman-style brick by Wienerberger, the street facade's rustic appearance is intended to evoke the surrounding Haussmann and Art Deco-era buildings. Blue glazed bricks arranged in diamond patterns complement similar masonry detailing employed on the adjacent apartment building.
Further surface articulation is achieved using a chequerboard effect of 'missing' bricks, recessed masonry panels, and glass blocks – used in place of bricks – in key areas. The latter produce a dappled lighting effect internally. Special curved bricks are used on the corners of the facade to soften the transition between the new building and its established neighbours.
In contrast to the street elevation, the south-facing facade is clad with perforated aluminium shutters and metal rainscreen cladding. The architect describes the scheme as a delicate balancing act between historic continuity and contemporary expression, public and private, and interior and exterior.