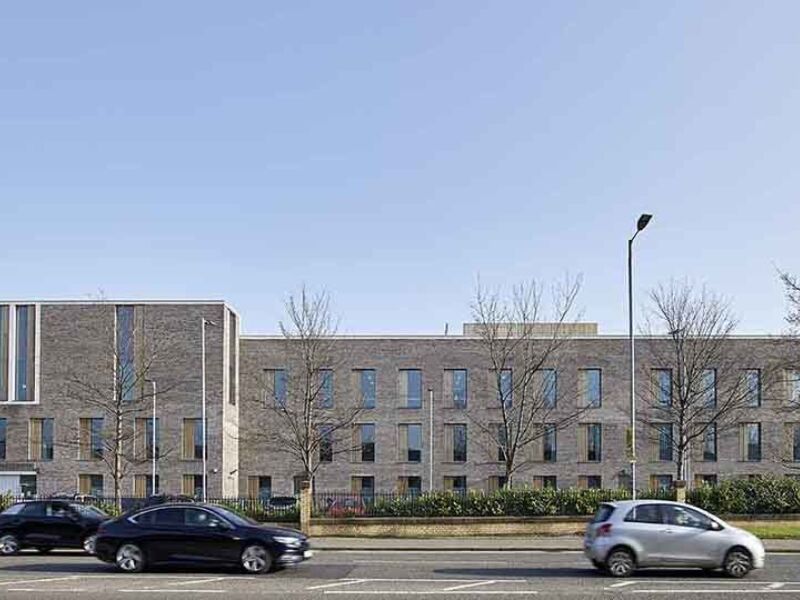 The New Gorbals Health and Care Centre, designed for hubWest and NHS Greater Glasgow & Clyde, forms part of the Crown Street masterplan and combines four GP services, Dental services and a variety of social care services under one roof, improving the quality and range of health services in the Gorbals neighbourhood.
The building form is effectively an 'E' plan typology, giving maximum elevation. The design incorporates two private courtyard garden spaces in the heart of the plan. The courtyards provide a high degree of natural daylight and sunlight and provide a physical and strong visual amenity for all the building users.
The building is predominately constructed in Pagus Grey/Black Multi facing brick by Wienerberger using stretcher bond with deeply revealed openings to give it a robust and civic presence. The highly textural and dark toned brick connects the building to Glasgow's historic fabric and to the wider redevelopment of New Gorbals and Laurieston. It provides a subtle yet animated façade which changes with the light during the course of the day. The brickwork is complimented by contrasting precast details, large openings and Western Red Cedar louvres, which add a warmth to the elevations.
Projecting brickwork signifies the main entrance and predominant corner of the building. Using the simple technique of a dog tooth bond, laying alternate courses of stretcher bond angled at 45° from the direction of the brickwork, a faceted texture with a play of light and shadow has been created whilst minimising the requirement for cut bricks.