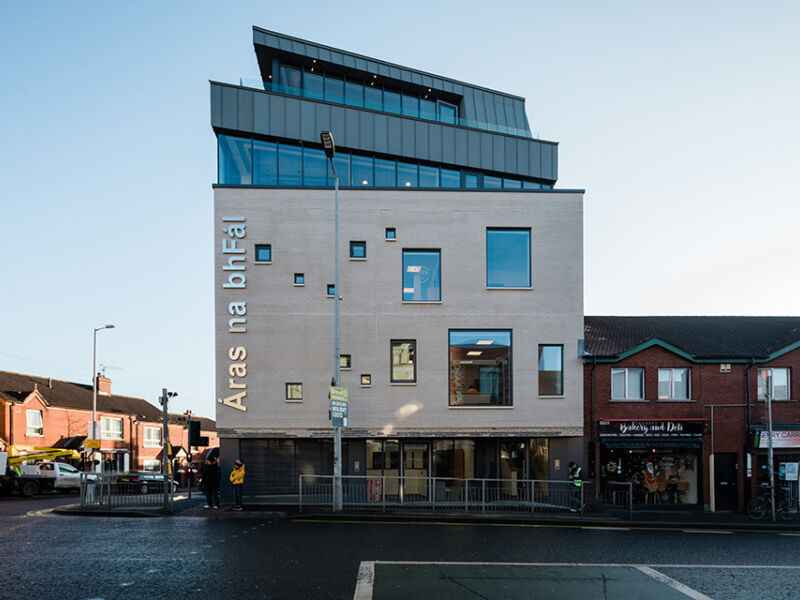 Aras na bhFál, located in a very tight site on the junction of Falls Road and Broadway, Belfast, this new build facility provides a unique community provision, affirming a new physical presence directly onto the public space of the street. The building was developed by Iontaobhas na Gaelscolaíochta (InaG) the trust fund for Irish language schools.
The £2 million building is another addition to the physical development of the Gaeltacht Quarter in West Belfast. The new building provides a top-quality workspace for the various Irish language bodies who operate from this building. Works were completed in December 2019.
Paul McAlister Architects & ARdMackel Architects selected Wienerberger for this project as they were able to offer the widest range of bricks, in different colours, textures, styles and shapes, we had no problem selecting the right brick to achieve the aesthetic we were trying to achieve for this project.
The bricks chosen for this project were Wienerberger Platinum White and a contrasting Wienerberger Platinum Grey.
The coloured mortars used were supplied by RTU based in Belfast, White mortar, and dark brown mortar was used. The coloured mortar combined with the bricks selected creates a building aesthetic that adds so much to the area and its community.