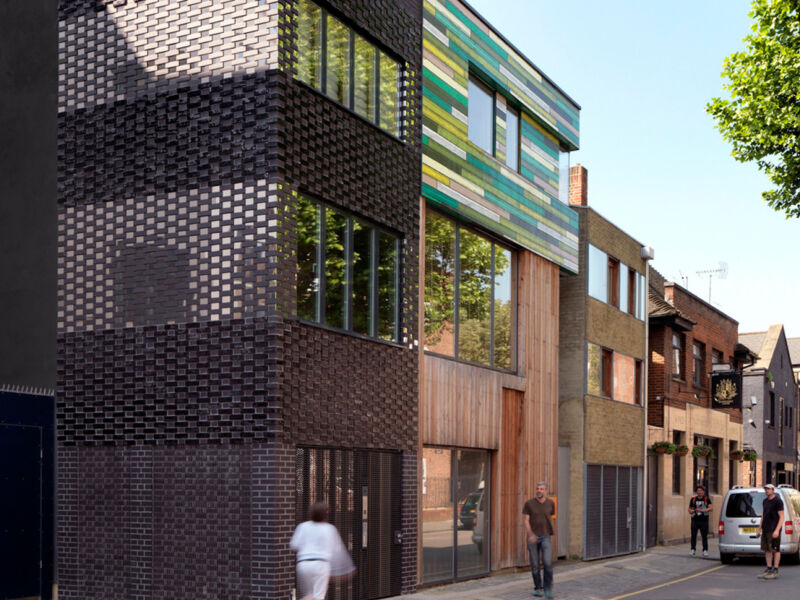 Bespoke dark brickwork provides a striking façade for Urban Mesh Design's 'Volcano House', winner of the Innovation award at the Brick Awards 2018. An abandoned, 3.7-metre-wide site in Shoreditch, east London, has been infilled with the 220-square-metre home for architect and practice director Oliver Lazarus and his family. The house is located on Coate Street, a pedestrian thoroughfare that runs east to west between Oval Space and Haggerston Park.
The ground floor of the dwelling is planned around a large pear tree set within a glazed courtyard containing guest accommodation and an airy, open-ceilinged studio space for Lazarus' yoga and health practitioner partner. The interiors of the home have been playfully designed to suit the desires and personalities of Lazarus and his family. In the main dining space sliding pastel green kitchen units are complemented by a cantilevered sea-blue wrap-around leather banquette and reclaimed peach church pew. Glass doors disappear into walls, neon hearts glow, and stairs become periscopes. A strategically placed step in the master bathroom puts the 6'3" and 4'11" couple at equal heights when facing double stone sinks, while also providing access to a secluded street-facing bamboo terrace.
Circulation spaces on the upper floors have been made wide enough to accommodate music, games and homework spaces. Despite the narrow plot, just 3.7 by 20 metres, and flank walls to neighbouring properties, the house is suffused with natural light, much of which comes from glazed recesses – the result of extensive party wall and rights-of-light negotiations.
Working closely with the brick supplier, the architect developed the bespoke 'Black Volcano' brick for the facade. The banded masonry, which includes hit-and-miss brickwork, as well as mirror-polish slips, changes the appearance of the facade depending on the time of day. By day it appears partially transparent and by night, reflective.
Lazarus studied at Cambridge University and Oxford Brookes, having previously qualified as a site carpenter. A well as co-founding Urban Mesh Design, he is a director of Simply Crafted Developments, a property development company creating innovative new build and refurbishment projects in east London and lectures in property development at the Bartlett School of Architecture in London.
"The project has been a labour of love, from purchase and planning through to construction and fit-out", says Lazarus. "The nature of the site pushed us as architects to create something engaging in the streetscape, and internally to create a generous home with functional, beautifully proportioned and well connected spaces."
The Innovation category of the Brick Awards 2018 was sponsored by Wienerberger