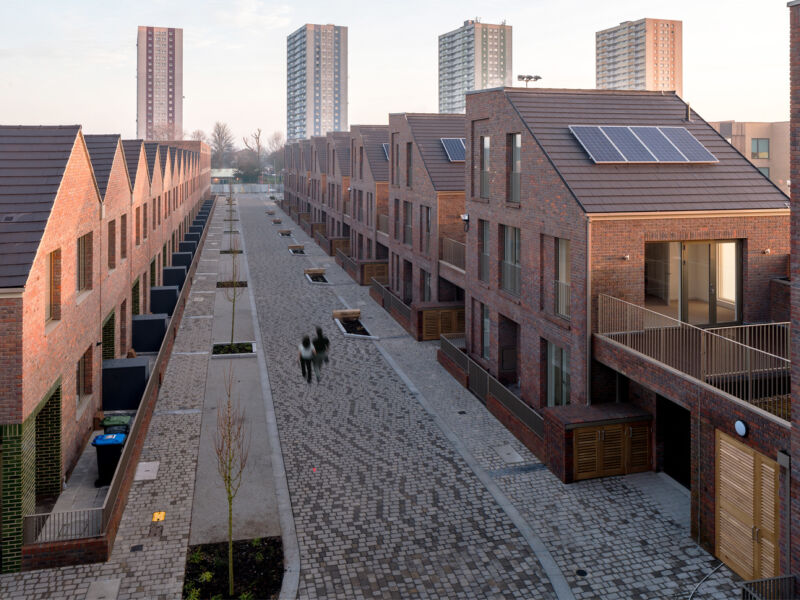 The first council-led social housing delivered by Enfield Council in four decades, Dujardin Mews forms the first phase of the wider regeneration of Ponders End and replacement homes for the neighbouring Alma Estate. The brief for the architects Maccreanor Lavington and Karakusevic Carson was to maximise the potential of the site while respecting the local townscape and deliver high quality, exemplar housing.
Built in traditional brick and blockwork construction, the project occupies a brownfield site next to the new Oasis Academy School. The 38-unit development is a mix of one-, two-, three- and four-bedroom dual-aspect homes with generous amenity spaces, including terraces, courtyards, in-plot parking, balconies and spacious brick-enclosed back gardens. The plan is arranged as a dual-sided streetscape with shared landscaping, a children's play area and a new pedestrian route.
The use of high-quality bricks ensures that the new homes complement the surrounding housing in the traditional London brick vernacular, and that they will age gracefully. The elevations are designed to lend rhythm and poise, creating an intimate character inspired by the typical London street. The rich variety of texture and colour of the bricks, combined with the subtlety of the pearl composite windows and matching metalwork, provide a sophisticated palette.
The brickwork design explores the intricacies of the clay module, with a conventional stretcher bond punctuated by decorative brickwork detailing. Soldier courses at roof level, soldier lintel above windows, recessed brickwork panelling and in-situ brick sills together with the use of a green glazed brick at the entrance door surrounds all contribute to the varied streetscape.
Dujardin Mews is designed to achieve CfSH Level 4, while four units achieve Level 5. A combination of enhanced building fabric, low permeability rates, renewable energy generation through photovoltaics, combined with the use of sustainable brick and block led to a reduction in consumption.
In the words of Cllr Ahmet Oykener, Cabinet Member for Housing, Enfield Council
"These beautiful brick-built properties will set the benchmark for new development in Ponders End and a very high standard for future new-build of Enfield Council homes."
Dujardin Mews won the highly acclaimed Brick Award for urban regeneration in 2017.