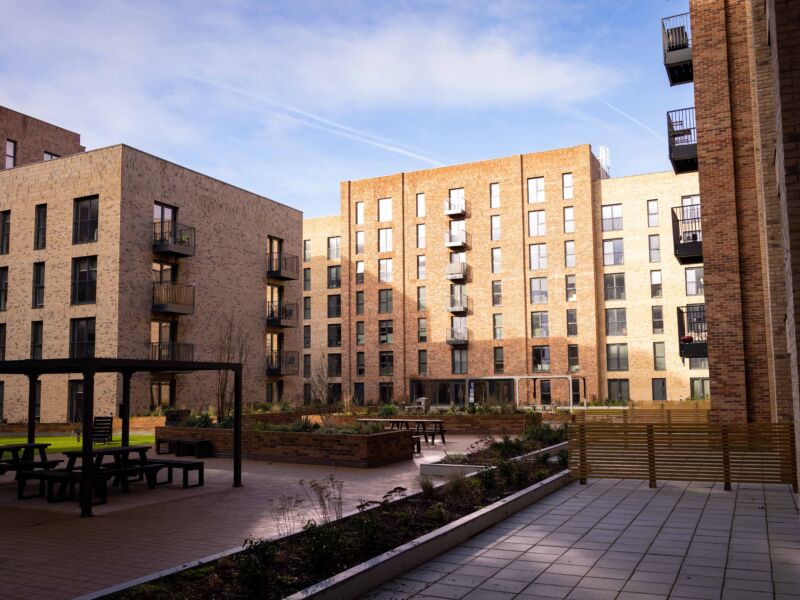 Constructed between the banks of the River Irwell and Ordsall lane in Salford, the Dock 5 project is an six to eight storey, three block mixed use building comprising of 388 apartments including studio 1, 2 and 3 bedroom and 6 duplex apartments. Car and cycle spaces are provided on the lower ground floor.
Fully handed over in November 2022, the development is the first to be completed of a wider regeneration masterplan in this area, including adjacent projects at Bridgewater Wharf and Merchants Wharf.
Dock 5 offers an ideal location for young professionals and families, offering small commutes to the busy Manchester City and Salford Quays commercial districts
ForLiving contracted the design (via Falconer Chester Hall) & construction package to Bridgestone Construction Limited, who in turn subcontracted the masonry package to Tate Brickwork Limited; following their successful working relationship on previous projects. One of the main challenges of the project was the management of site logistics in a relatively small construction area and adjacent to a dense residential community. The effects of this were largely mitigated through regular collaboration meetings between the client, contractor, stakeholders and the supply chain.
In total there was over 15,500m2 of brick, which combined with reveal returns and piers equated to over 1 million bricks used. Given that large areas of brickwork within a relatively small footprint, the challenge for the architect was how to make the building less overpowering whilst also showing off the masonry features.
This was achieved primarily by alternating the various elevations between the Wienerberger Heritage Blend and the Ibstock Ivanhoe Cream. The result of which provides more of a townhouse community feel as opposed an industrial effect than can sometimes emanate from large buildings with the same façade.
Juliette balconies have been used to further the sense of verticality but also to celebrate the corners where the lounge areas are situated. The projected window surrounds enhance corners of the building blocks. Dock 5 responds to its context, maximising an active frontage, providing an exciting, varied streetscape and makes a positive contribution to the River Irwell.
The 3 blocks surround a central private terraced area which provides an ideal social and community environment with an authentic townscape backdrop.
As the first of the regeneration projects to be completed in this area, the Dock 5 project has set a very high benchmark for what should be expected in this previously neglected area of the city.