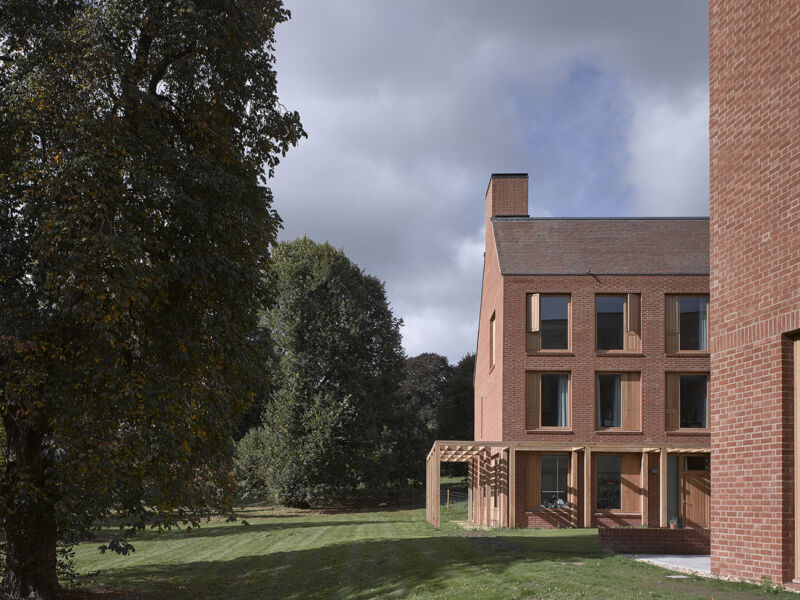 Dancy House, designed by Allies and Morrison, is a new female boarding house for 70 pupils with a range of communal, kitchen and dining spaces. The building sensitively responds to its setting, taking into account the character, massing and quality of the town of Marlborough.
While the building's plan is pragmatically arranged to maximise space within, the elevations are manipulated to play with scale and formality. The garden elevation is intentionally formal and rigorous reflecting the grandeur of the neo-classical buildings it faces, while the perimeter elevation uses lowered eaves and dormers to be sympathetic to the more domestic Arts and Crafts buildings it addresses.
Although distinct in composition, the two elevations are connected through the use of an intentionally concise material palette –brick, clay tile, timber and stone - to form a cohesive whole. The resultant gables at their interface are playful and representative of the building's section.
The building's elevations are completely reliant on the quality of its brickwork. Flemish bond is carefully co-ordinated with brick cills, soffits and reveals to create a building that is completely 'made' of clay. This reduced palette, demanded great care in selection. A handmade red brick softens the building's crisp and modern details and was selected together with its red clay roof tile. The multifaceted building thus maximises the qualities of the natural clay bricks, changing colour dramatically through the day, and through the seasons. The brick's ability to absorb and reflect light with its subtle variation in tone defines how the building is perceived.
The project was commended in the Education category of the Brick Awards 2019. To learn more, click here.