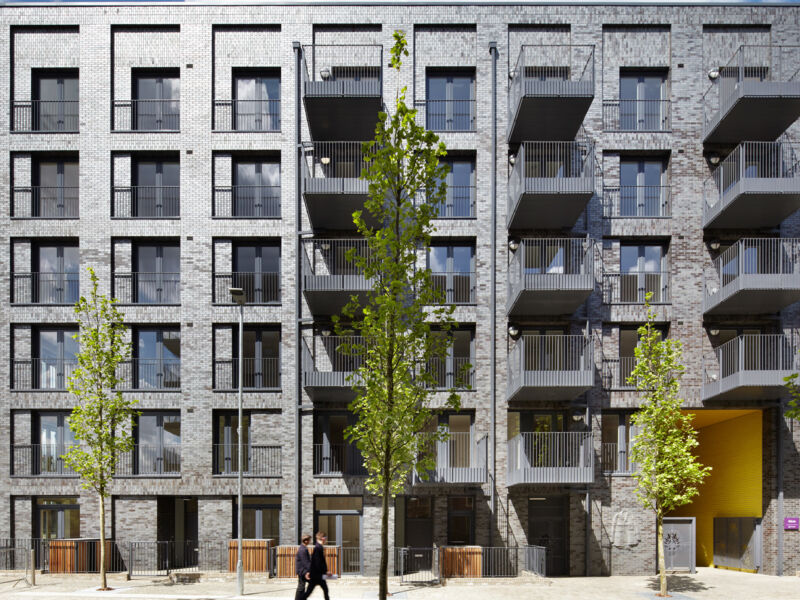 A richly detailed residential scheme in London by Hawkins Brown employs a range of different coloured bricks.
Peabody St John's Hill is a phased, mixed-use residential-led redevelopment of a 1930's estate in Clapham Junction, London, by Hawkins Brown. Phase one comprises three buildings (Plot 01, 04 and 05) and accommodates 154 homes. Abutting a conservation area, Plot 01 utilises bricks that are tonally similar to the yellow London stocks and red bricks of an adjacent Edwardian terrace and church. A 'rusticated' base, comprising alternate recessed bricks and yellow brick window surrounds, signals the lower floor maisonettes and establishes a visual hierarchy across the facade.
Engineered bricks are employed on Plot 04 and 05, which are sited next to the railway. The facade of Plot 04 features an orthogonal grid with one-and-a-half brick reveals accommodating windows, Juliet balconies and purge vents.
Each of the communal entrances is lined with a coloured glazed brick, providing an effective wayfinding device for visitors. They also provide moments of strong colour and are easy to clean.