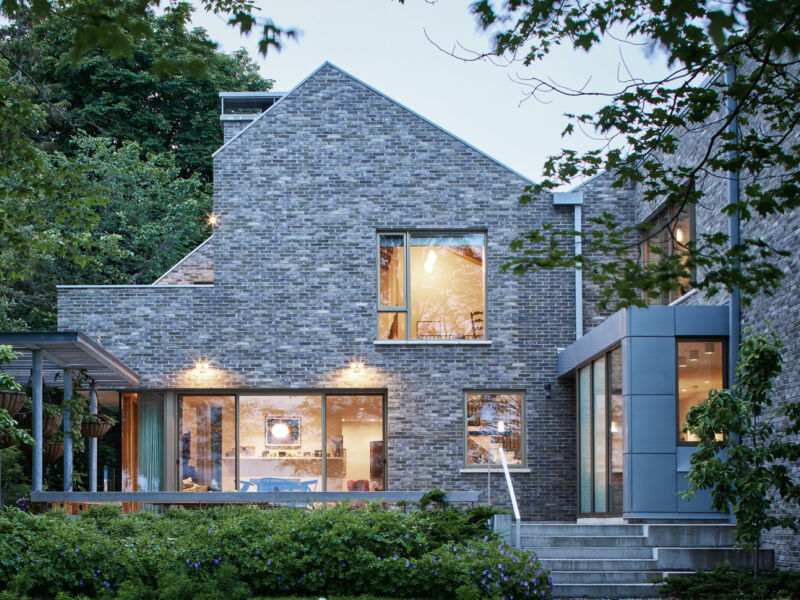 Trevor Horne Architects has completed a house in Canada, on the shore of Lake Ontario at Cobourg, 100km east of Toronto, for a retired couple who were relocating from the nearby family farm in Grafton.
The house, adjacent to Cobourg's Victoria Park, is set deep into the site while accommodating local zoning regulations. Screened by large mature trees, it is intended to have a discreet presence in this conservation area. The design references the barn at the family farm, with two long, pitched barn-like forms slightly offset to create a front terrace overlooking the lake and park, and a private rear terrace connected to the enclosed garden. The size and proportion of the rooms, in turn referencing the old farmhouse, allows the old family furniture to be at home in the new spaces.
The ground floor is intended for everyday use, and in the summer it opens out onto the terraces. The upper floor, with a walnut-lined ceiling following the roof pitches, creates an attic-like space that can accommodate visiting children and grandchildren. A painting studio, also on the first floor, affords views over the lake. The basement is large enough to accommodate rehearsals for a local repertory company, run by one of the owners.
While contemporary in design, the house is intended to be comfortable within the heritage neighbourhood of the lakeside town. The materials include brick, zinc roofing, walnut for the floors and ceilings, gunmetal finish for handrails, while the fire surrounds are single pieces of Carrara marble and the kitchen counters are soapstone.