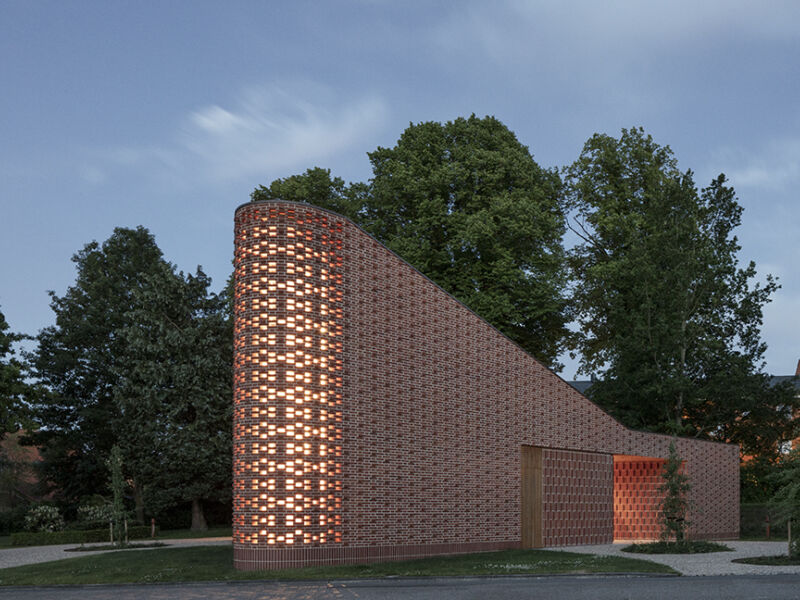 In the new chapel in the cemetery in Odder, the architect's vision was to create a sculptural building in which simplicity and solemnity are equally dominant. A major element in the success of the project is the dynamic perforated brickwork solution, which creates varying effects in light and shadow, depending on the time of day. 
Patterns in brickwork combining simplicity and solemnity catches the eye immediately. Erected in the summer of 2019, the building stands at the highest point, and its red tones crowning the green surroundings. 
Gjøde & Partnere Arkitekter were in charge of the construction, and from the start, the aim was for an artistically aesthetic, sculptural building. It is characterised throughout by exclusive materials, and the choice of bricks in particular has played a significant role.
Johan Gjøde, the architect who designed the building incoroprated brickwork patterns with changing light and shadow effects as a sculptural setting for the interaction of light and shadow. It is a small work of art in its own right, with red tones forming a gentle contrast to the shades of green in the cemetery. The chapel is a ceremonial building, but not associated with any particular religious creed. It must embrace all who come, including non-believers. The building is given an utterly simple, timeless expression, as a beautiful setting for a last farewell.
The choice of brickwork played an important part in realising this vision as the brickwork in the chapel façade is quite special. Curved corners and outstanding bricks form a relief that captures the rays of the sun and leads the light around the building towards the entrance. In the northern corner of the chapel the brickwork is perforated to create an attractive play of light and shadow. In the daytime, the ceremonial space is lit up by the rays of the sun streaming in, and in the evenings the chapel itself lights up the surrounding graveyard. This interaction of light and dark symbolises the changeability in a lifetime
The building uses special bricks to accommodate the complex form and for the brickmaker, Egernsund Wienerberger, the chapel in Odder was no ordinary assignment. The brickwork solution is both simple and yet highly complex. It is simple, because it is built using a uniform look in classical red tones from Wienerberger's Multirød range. And it complex because the chapel's layout is highly individual. This is not only due to the dynamic patterned brickwork, but also because the three corners of the building are rounded. For that reason among others, the architect used a large number of different special bricks with different curvatures all from the same type of brick.